Leadoff homer provides only offense in 14-inning loss
Leadoff homer provides only offense in 14-inning loss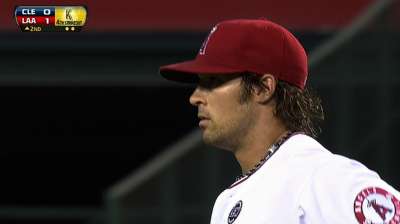 ANAHEIM -- For the first four months of the season, he was arguably the worst pitcher in all of baseball. For the last four weeks, he's been confined to a mop-up role in the bullpen. And all throughout, he's been a punching bag for an Angels fan base that sees only a bloated ERA and an inordinate home-run total.
Joe Blanton's 2013 season -- the first of a two-year, $15 million contract -- hasn't only been rough; it has in many ways typified the Angels' disappointing year. Tuesday's 4-1 loss to the Indians -- when Blanton served up a two-run homer, then allowed another run to score with an errant throw in the top of the 14th inning -- was only the latest gut punch.
"I've had rough patches before where I've had to make adjustments," Blanton said. "Definitely nothing like this. I just have to keep grinding out, keep working hard."
The Angels -- shorthanded as they were -- worked hard on Tuesday, but it went to waste after five hours and 17 minutes of some of their most frustrating baseball yet.
C.J. Wilson pitched 7 1/3 innings of one-run ball, lowering his ERA to 3.30 after 26 starts, and an Angels bullpen that had posted a Major League-worst 9.25 ERA since Aug. 13 held the Indians scoreless through 5 2/3 innings.
But Josh Hamilton got picked off at second base while representing the go-ahead run in the eighth, moments beforea single by Kole Calhoun. Two innings later, the Angels loaded the bases with none out and failed to score. And four innings after that, Blanton served up the deciding home run.
This was the Angels' season, boiled down to one extended game.
"We did a lot of things good on the field -- we did," manager Mike Scioscia stressed after the Angels lost for the 12th time in their last 17 games. "Some of our kids got into situations and just couldn't get it done, but that's going to happen. There are going to be growing pains, and I think we saw some tonight in some situations. Hopefully these guys will use the experience to get better and become tougher outs up at the plate."
Blanton is now 2-14 with a 6.12 ERA. The two-run homer Drew Stubbs hit to left-center field was the 29th he's given up this season, which leads the Majors -- even though he hasn't been a starting pitcher since July 22. And over his last three relief appearances, Blanton has given up 16 runs (15 earned) in a span of 7 1/3 innings.
"I wouldn't say I've lost confidence," Blanton said. "I still feel like my stuff is good, and I still feel like I compete every day. I've banged my head against the wall. As soon as I walk out of the clubhouse, it's over. The next day, let's have fun again. Try to make it fun.
"You keep trying everything until something sticks. It's frustrating when you just keep trying things and then you almost roll back and start trying again. For me personally, that's all I can keep doing is keep trying. I'm never going to give up; never have."
Blanton was signed this offseason because of the durability and production his track record suggested, with a 4.37 ERA and 1,426 2/3 innings -- 20th in the Majors -- from 2005-12.
He's been far from that this year, knows it and said he's tried everything possible to get back on track. Asked about his demotion to the bullpen, he admitted he didn't like it, but added he "understands it."
As for the Angels fans that rip him on message boards, and boo him when he takes the mound, and take shots at him on Twitter?
"They see what's on the field and they see I'm not throwing good," Blanton said. "When you don't perform good and you're somewhere new, and they haven't seen you throw before, that's their only base -- you're basically a rookie and that's their only grid. It is what it is. You just keep going out there and grinding it out.
"I'm going to try to stick with who I was. I'll make subtle changes to it, but I'm going to keep attacking hitters and throwing strikes. If they keep hitting them, they keep hitting them. But walks aren't going to make it better, either. I just have to try to execute a little bit better, keep the focus level up."
For the first 11 innings in the second of a three-game series, the Angels and Indians combined for 25 baserunners and manufactured only two runs via a couple of homers -- by J.B. Shuck to lead off the first and by Carlos Santana to lead off the seventh.
The Indians went 0-for-their-first-19 with runners on base. The Angels finished 1-for-13 with runners in scoring position and left 17 runners on, getting blanked by eight relievers and getting robbed by center fielder Michael Bourn, who made a leaping catch to end the 12th and steal a walk-off hit from Hank Conger.
It was that kind of night. It's been that kind of season.
"We played hard, they played hard and just the result of baseball came out," said Conger, his right hand heavily wrapped after fouling off a high fastball during a suicide-squeeze attempt.
"Our team has had some unfortunate results, overall," Wilson said. "These games where we're right in the game, right in the game, right in the game -- those are the most frustrating games to lose."
Alden Gonzalez is a reporter for MLB.com. This story was not subject to the approval of Major League Baseball or its clubs.