Intentional walks don't bother Pierzynski
Intentional walks don't bother Pierzynski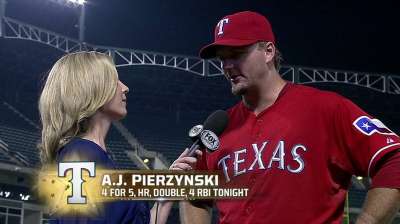 ARLINGTON -- The Astros made the choice to intentionally walk Adrian Beltre twice in Monday's game and take their chances with A.J. Pierzynski. After the first walk, Pierzynski struck out. The next time, in the third inning, Pierzynski delivered a two-run single. It was the first of his four hits on the night.
"Adrian is one of best hitters in baseball," Pierzynski said. "You can't blame them. You want to make them pay, but you don't try to change anything. You almost have to try and calm down."
Beltre has been intentionally walked eight times this season. That's nothing for Pierzynski, who spent one season with the Giants in 2004. That was the year Barry Bonds was walked a record 232 times, including 120 intentionally, as the Giants' cleanup hitter. Pierzynski hit fifth and sixth in the order and had a career high 77 RBIs.
"There were a lot of guys on base in front of me," Pierzynski said. "[Bonds was] the best hitter I've ever seen and nobody comes close. He'd get one hit to pitch in three games and he would hit a home run. It was amazing."
T.R. Sullivan is a reporter for MLB.com. Read his blog, Postcards from Elysian Fields, and follow him on Twitter @Sullivan_Ranger. This story was not subject to the approval of Major League Baseball or its clubs.