Corporan placed on concussion list, to see specialist
Corporan placed on concussion list, to see specialist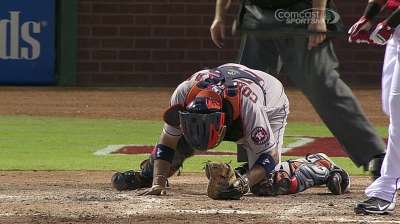 ARLINGTON -- The Astros placed catcher Carlos Corporan on the 7-day concussion disabled list on Tuesday. Corporan was with the team on Tuesday, but will meet with a specialist on Wednesday in Houston.
Corporan still felt dizzy a day after he was hit in the mask by a foul ball in the third inning of Monday's game. Corporan didn't pass the concussion test given by the trainers after he was replaced by Jake Elmore in the fourth inning.
"I told the trainer to re-do it [Tuesday], but they decided to put me on the 7-day DL," Corporan said. "If I get hit again, that'll be a severe consequence on my head.
"I thought I was fine after the game last night. I didn't feel that bad, but today I kind of feel it. I'm glad they made that decision."
Corporan said it was the first time he had sustained a concussion. The Astros selected catcher Max Stassi from Double-A Corpus Christi to serve as Jason Castro's backup.
"It's unfortunate for Corporan," Astros manager Bo Porter said. "We're very concerned about his well-being, as well. Whenever you start to talk concussions and slow to respond, it's something that we all take serious. That's why we were quick to react and go ahead and put him on the concussion DL and get Stassi here."
Corporan said he watched the replay of the hit and noticed his head cocked back on the play, causing the concussion. He said he was hit by a foul ball on Sunday and felt fine, but Corporan will look for additional protection whenever he returns behind the plate.
"It's scary, because you don't feel anything," Corporan said. "All the symptoms start coming together at the same time, so it's kinda scary. I feel funky, dizzy and nauseous. It's not fun at all."
Master Tesfatsion is an associate reporter for MLB.com. This story was not subject to the approval of Major League Baseball or its clubs.