Brewers want power to gaps with Aramis back
Brewers want power to gaps with Aramis back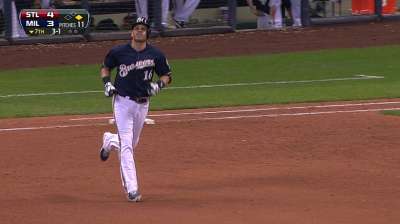 MILWAUKEE -- The Brewers lost Monday's game, but Aramis Ramirez's go-ahead, two-run home run in the seventh inning was significant for a team and a player searching for positives in a disappointing season.
The homer off Cardinals reliever Michael Wacha briefly gave the Brewers a 5-4 lead. More importantly, it was Ramirez's first home run since June 26, two weeks before he succumbed to a second stint on the disabled list for a sprained left knee, and his first extra-base hit since returning to action on Aug. 13.
"My legs are a little stronger this time around," said Ramirez, who tried playing at far less than 100 percent after an earlier DL stint. "I can get a lot more behind the ball now."
Said manager Ron Roenicke: "That's what we need from him once in a while. Not so much the home run, but driving the ball in the gaps like he does. We need him there in that four-spot, and hopefully we can get him going."
Ramirez entered Tuesday's game with six home runs, 28 RBIs and a .398 slugging percentage in 60 games, way off pace for a player who hit at least 25 home runs in nine of the past 10 seasons. Ramirez said he would use the offseason to get healthy for 2014, when he will earn $16 million ($6 million of which is deferred) in the final season of his backloaded, three-year, $36 million contract. The deal includes a mutual option for '15.
For now, Ramirez said he feels "OK," an indication that the knee is still not completely healthy.
"I won't be 100 percent the rest of the year, but I'm good enough to be out there," said Ramirez, who has simple goals for the remainder of the season. "Just stay healthy and try to get as many doubles as I can."
Adam McCalvy is a reporter for MLB.com. Read his blog, Brew Beat, and follow him on Twitter at @AdamMcCalvy. This story was not subject to the approval of Major League Baseball or its clubs.