Cosart solid in loss to Rangers
Cosart solid in loss to Rangers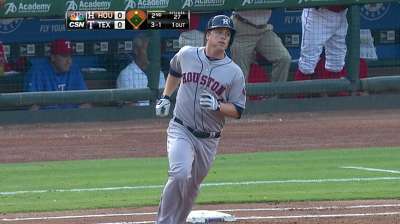 ARLINGTON -- Jarred Cosart bit his glove as he stared off into right field. He'd pitched well enough to get the win, limiting the potent Rangers lineup to just one run, until his 106th pitch with one out in the sixth.
The rookie watched as Adrian Beltre circled the bases, having allowed his first career home run that changed the fate of his outing, resulting in his first career loss as the Astros dropped a 4-2 decision on Tuesday at Rangers Ballpark.
Beltre jumped on a 80-mph curveball about chest high in the third pitch of the at-bat. He sent the two-run shot 368 feet, under the Home Run Porch, to put the Rangers up 3-2.
"It popped out of my hand," Cosart said. "It didn't have the good downward bite on it. It just stayed up in the zone long enough. He recognized it and waited on it. He's a strong human being and one of the best hitters in the game. It's something I'll learn from ... really got to bear down in those situations, especially against someone like that."
Astros manager Bo Parter said he was sticking with Cosart in the sixth. Cosart has pitched six or more innings in six of his seven career starts. Cosart entered the inning at 89 pitches, but the right-hander approached 100 after a nine-pitch at-bat by Elvis Andrus, who Cosart said he didn't want to walk. Andrus grounded to short for the first out.
The bullpen quickly became active after a one-out walk to Ian Kinsler, but it was too late. Kinsler scored on Beltre's home run in the next at-bat.
"You look at the two-run homer, it's hard to hit a bad pitch good," Porter said. "That pitch is up out of the zone and Beltre just put a charge on it."
Cosart felt he had his best command of the season against Texas. He stuck with his fastball and curveball, throwing just one changeup. Cosart allowed a career-high three runs on just four hits over six innings. He threw 112 pitches, three short of his career-high.
"My pitch count drove up in the third, and I told Bo I wanted to get through six or seven," Cosart said. "It showed a lot that Bo has faith in me, and I have a lot faith in myself. That's not going to change going forward, I know that. It's just back to the drawing board. Maybe I need to do a little more running or conditioning to keep my legs under me a little longer. I'll figure it out going forward and hopefully the sixth and seventh innings are a lot smoother."
Houston faced one of its former pitchers for the second time this month and managed to gain its first lead in the series. Travis Blackley started in place of Alexi Ogando who was placed on the disabled list on Tuesday, and lasted just four innings. The Astros took a 2-1 lead in the second on Matt Dominguez's two-run blast to left field. It was Dominguez's 17th home run, and he has the third-highest single-season total by a player under 24 in franchise history, trailing Cesar Cedeno and Jim Wynn.
"It was never a doubt in my mind how they were going to bounce back from a bad game we had [Monday] night," Porter said. "I knew today they would come ready to play. The Rangers got the better of us tonight, but our guys played well."
Once Blackley left the game after four innings, the Rangers bullpen threw five scoreless innings with a season-high eight strikeouts to claim its seventh of the club's last 17 wins.
Max Stassi collected the first hit of his Major League debut in his second at-bat. He singled to center to lead off the fifth against reliever Jason Frasor, but Stassi was ruled out two plays later after straying off second base.
Frasor's throw sailed away from Andrus covering second base on a ground ball by Marwin Gonzalez, allowing Stassi to reach safely. But Stassi walked away from the bag and Kinsler alertly tagged him to record the second out in the inning. Stassi finished 2-for-3.
"It was a mental mistake on my part," Stassi said. "I have to know where the ball is. I talked with Bo, and it's something that's never happened to me in my career and it's never going to happen again."
The Astros have now lost eight straight series against the Rangers in Arlington. Houston has now lost seven straight to Texas, its longest losing streak against its in-state rival.
Master Tesfatsion is an associate reporter for MLB.com. This story was not subject to the approval of Major League Baseball or its clubs.