Mets hang on after Wheeler's early dominance
Mets hang on after Wheeler's early dominance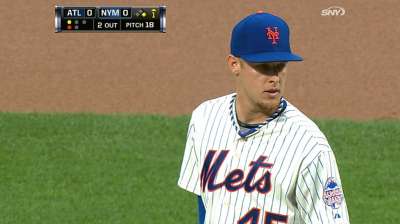 NEW YORK -- Objectively, Zack Wheeler understood that his 114th and final pitch of Tuesday's 5-3 Mets win over the Braves was not necessarily a bad one. Catcher Travis d'Arnaud suggested a fastball, but Wheeler had designs on a backdoor slider, which he delivered an inch or so off the outside edge of the plate.
Though many batters might have swung at the pitch, Braves outfielder Jason Heyward -- arguably the hottest hitter on the planet -- watched it slip by for a walk to load the bases. That brought Mets manager Terry Collins to the pitcher's mound, where he rendezvoused with a "furious" Wheeler. Jokingly, Collins said he was unsure if the rookie would relinquish the baseball.
"I thought it was going to be a wrestling match, but I love that stuff," Collins said. "That's what I like about the days he pitches. He competes."
He may not possess even an ounce of Matt Harvey's outward fire, but throughout his young career, Wheeler has displayed tenacity in equal measure. So he was indeed furious that he missed by an inch on his final pitch to Heyward. He was upset that Collins removed him from the game at that point, and even more regretful when Andrelton Simmons cleared the bases with a double off Carlos Torres. All three runs went onto Wheeler's line.
That's just the way he is. That's just how he acts. And that is what the Mets feel will ultimately make him successful.
"My whole career," Collins said, "I've always loved the player who, when a game is over, he comes in and is genuinely upset I took him out of the game."
For a time Tuesday, it did not seem as if anyone would even need to visit Wheeler on the mound. Overpowering at the start, Wheeler dialed his fastball as high as 97 mph at times, relying almost exclusively on that pitch as he struck out four over the first two innings. Though he lost a bit of velocity as the game wore on, Wheeler still took a shutout into the seventh.
"'Wild effective' really fits the description of it," Heyward said of Wheeler's early success. "Not to say he was throwing balls to the backstop, but he's just around the plate enough, and his fastball is electric enough with the movement. It's tough to square up."
It was not until Wheeler recorded two outs in the seventh that trouble surfaced on a Paul Janish double and a walk to pinch-hitter Joey Terdoslavich. Considering Wheeler was coming off a career-high 115-pitch effort last time out in San Diego, Collins would have surprised no one by coming to the mound at that point to retrieve his young pitcher.
Instead, the manager decided to test him, watching from the dugout steps as Wheeler jumped ahead of Heyward on four consecutive fastballs, threw two sliders out of the zone, then two more heaters that Heyward fouled away. Finally, on the ninth pitch of the battle, Wheeler threw the imperfect slider that Heyward ignored for ball four.
"I just hate that that was my last pitch and I walked him," Wheeler said, pinching together his thumb and index finger. "I'm just ticked because it was this close. It just missed."
Though it resulted in three more runs on Wheeler's season ledger, in the end it did not ultimately matter. Marlon Byrd's two-run homer in the sixth inning -- his career-high 21st of the season, which he called the product of "hard work" -- had given Wheeler a four-run cushion, allowing him to join Tom Seaver in 1967 as the only Mets rookies to beat the Braves at least three times in a season.
Sixty percent of Wheeler's five wins have come against the Braves, the best team in baseball, which Wheeler considers an encouraging sign. And the comparison to Seaver was not his only brush with history; Wheeler also became the fourth Mets pitcher to strike out five or more batters in at least nine of his first 12 starts, joining Matt Harvey, Dwight Gooden and Nolan Ryan. He is now 5-1 with a 3.08 ERA in nine outings since the start of July.
"When I first came up, I think I was trying to do a little too much, trying to make guys chase rather than just relying on a good, quality pitch," Wheeler said. "It's starting to work here and I'm trying to continue that."
The Mets tacked on some late insurance when Ike Davis, who singled home a run off Braves starter Brandon Beachy earlier in the game, nearly cleared the second deck in right field with an eighth-inning homer against Luis Ayala. Three batters later, d'Arnaud snapped an 0-for-10 streak to start his career with a double to the wall, calling his first Major League hit "a great feeling."
The result was a win, which was enough to take the edge off Wheeler's fury -- if only slightly.
"I'm very impressed with the way he went about things," Collins said. "The more he pitches, the better he's going to get."
Anthony DiComo is a reporter for MLB.com. Follow him on Twitter @AnthonyDicomo. This story was not subject to the approval of Major League Baseball or its clubs.