Braves fall as Beachy's solid start goes south in sixth
Braves fall as Beachy's solid start goes south in sixth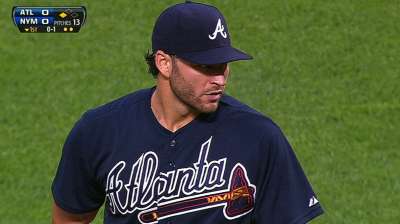 NEW YORK -- For five innings, Brandon Beachy cruised through the Mets' lineup. The lone blemish on his ledger to that point resulted from a throwing error by shortstop Andrelton Simmons that ultimately cost the Braves a run. With no outs and a runner on third in the sixth, though, Beachy's night took a quick turn that prompted postgame second-guessing.
"It might've been a strike, but I don't think it was up. I didn't hang it," Beachy said. "It was a decent pitch. Maybe I should've thrown it in the dirt, I probably should've. But he hit it, hit it hard. That's what happens."
Beachy threw a changeup over the plate that Marlon Byrd turned around for a two-run home run that gave New York a four-run lead, spoiling what was a superb start from Beachy and helping to send New York to a 5-3 win over the Braves. Atlanta scored three runs in the seventh inning, but it wasn't enough to complete a comeback. The Braves are now 7-8 against the Mets this season.
Of his five starts for Atlanta in 2013, Tuesday's was certainly one of Beachy's best until Byrd's home run. Beachy allowed four runs (three earned) on five hits with four strikeouts over six innings. Beachy, who underwent Tommy John surgery in June of last year, didn't walk a batter yet took his first loss of the season.
"Going through it, I could tell you I'm about two pitches away from having those five starts pretty much how I'd like them to," Beachy said. "I can't have those two pitches back, one of them being tonight."
Aside from that one pitch to Byrd, Beachy built a solid performance.
Eric Young Jr. led off the first inning with a ground ball to shortstop. But Simmons' throw to beat the speedy Young was offline, allowing Young to reach. Young then stole second and scored on a single by Ike Davis to give the Mets a 1-0 lead.
From that point on, Beachy was in control. After Davis' single, Beachy retired the next 10 New York batters he faced.
"I was hitting spots. When I'm hitting spots and getting ahead, putting guys on their heels a little bit, mixing it up well, I'm pretty effective," Beachy said. "But I just kind of ran into a buzz saw there in the sixth inning."
That's when his stellar performance lost its luster.
Again, Young was in the middle of making that happen. He bunted the ball hard past Beachy to Simmons at shortstop for a leadoff hit. Beachy then allowed a single to Daniel Murphy that put runners at first and second.
Young and Murphy attempted a double steal, but Braves catcher Brian McCann's throw to second baseman Paul Janish was offline and the ball trickled into center field. That allowed Young to score from third to put the Mets up, 2-0. Murphy took third on the error.
Byrd then hit Beachy's offering on a 2-2 pitch for a two-run shot. Beachy retired the next three batters he faced, but the damage was already done.
The Braves, who were without Justin Upton after he was scratched with a left upper back strain shortly before first pitch, couldn't put together much offense against Mets rookie starter Zack Wheeler through the early part of the game.
"I felt pretty comfortable against them," said Wheeler, an Atlanta-area native. "It's really no bash on them, but it's an easy game plan."
Wheeler couldn't pinpoint the exact reason why preparing for the Braves is so easy. He said he had ample, detailed video and scouting reports on Atlanta's hitters, and said it also could be that the Mets see the Braves so often. Whatever the reason, Wheeler was effective almost all night long.
"Zack threw well tonight," Jason Heyward said. "He was kind of 'wild effective' around the plate, explosive fastball."
But Atlanta's lineup broke through in the seventh inning.
With two outs, Wheeler allowed a double to Janish and then walked pinch-hitter Joey Terdoslavich and Heyward to load the bases. Mets manager Terry Collins removed Wheeler and brought in Carlos Torres to pitch to Simmons.
The move didn't work.
Simmons hit a double to left field that cleared the bases and cut the Mets' lead to 4-3. Mets shortstop Omar Quintanilla's relay throw home sailed high, allowing Simmons to take third, but he was stranded there when Freddie Freeman flied out to left.
New York added another run in the eighth when Davis hit a long home run off Luis Ayala.
"Offensively, that one inning we got right back into it and thought we had a game there," Braves manager Fredi Gonzalez said, "but Davis, that solo home run there -- a two-run cushion is a little different than a one-run cushion."
Chris Iseman is an associate reporter for MLB.com. This story was not subject to the approval of Major League Baseball or its clubs.