Kubel struggling with health, hitting in tough season
Kubel struggling with health, hitting in tough season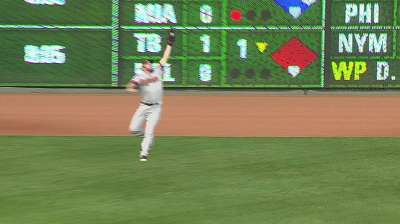 CINCINNATI -- There is no way to spin it, the 2013 season has been an awful one for D-backs outfielder Jason Kubel.
The 31-year-old has struggled with leg injuries since Spring Training, and it's probably not unrelated that his performance on the field has been well below his career norms.
"His knee has been swelling up on him, so we've been trying to get that under control," D-backs manager Kirk Gibson said of Kubel's left knee. "He's struggled with the bat, really, the second half of last year and this year, and there's maybe different reasons why it's happening, but he's worked extremely hard to try and fix that."
Kubel came into Tuesday's game hitting just .223, with an on-base-plus-slugging percentage at a career-low .624, and his playing time has been greatly diminished in the second half.
"Everybody goes through bumps and bruises and stuff, but it's never affected me like it has this time," Kubel said of his knee. "You put all that together and it makes it pretty rough."
Kubel thinks that he got into some bad habits at the plate this spring, when he was trying to not put too much weight on his left leg.
Kubel got a rare start Monday night against the Reds, and while he struggled against soft-tossing starter Bronson Arroyo, he singled in the ninth off flame thrower Aroldis Chapman.
"He obviously likes it hard," Gibson said, referring to fastballs. "You notice kind of how they pitch him, they kind of waste their fastballs and a lot of offspeed stuff and you've got to stay back on it, and he's had a hard time dealing with that."
Steve Gilbert is a reporter for MLB.com. Read his blog, Inside the D-backs, and follow him on Twitter @SteveGilbertMLB. This story was not subject to the approval of Major League Baseball or its clubs.