Nieves making extra effort on blocks behind plate
Nieves making extra effort on blocks behind plate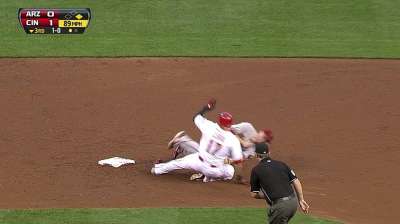 CINCINNATI -- D-backs catcher Wil Nieves was out early before batting practice Tuesday working on blocking balls in the dirt with catching instructor Glenn Sherlock and backup catcher Tuffy Gosewisch.
Nieves has done an outstanding job at the plate filling in for injured catcher Miguel Montero, and he's also done a nice job of calling games.
Blocking balls, though, is something that he could still use some work on and something on which he continues to put in extra time.
"He's not as much of a blocker," D-backs manager Kirk Gibson said. "He likes to try and catch it, and when the ball stays down like that, [it goes through a catcher's legs]."
Gibson has needled Nieves about his blocking as a way of prodding the catcher.
"We've talked about it in a good way," Gibson said. "I said, 'Geez, I don't want to have to bring Tuffy in late in the game for you.' You say it kiddingly -- you're kidding, but you're half serious. He knows it's just a lapse."
Steve Gilbert is a reporter for MLB.com. Read his blog, Inside the D-backs, and follow him on Twitter @SteveGilbertMLB. This story was not subject to the approval of Major League Baseball or its clubs.