Double take: Duo turns critical DP in clutch
Double take: Duo turns critical DP in clutch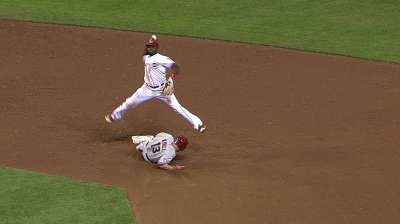 CINCINNATI -- There wasn't much time to think, only react, for the Reds' middle infield duo of Zack Cozart and Brandon Phillips in the ninth inning on Monday. Their turning of a slick double play helped save a 5-3 victory over the D-backs.
Against closer Aroldis Chapman, Wil Nieves bounced a high hopper toward shortstop. Cozart lunged to his right to pick up the ball and made a tough throw across his body to Phillips. As runner Jason Kubel barreled in with a slide into second base, Phillips made a nice leaping throw to Joey Votto at first base that barely beat Nieves.
"When he hit it, I knew Nieves the catcher was running," Cozart said on Tuesday. "I told myself if I make a good throw to Brandon, we can turn this. I was trying to concentrate on not getting Brandon killed."
From zero outs to two outs, the double play proved clutch. Chapman gave up another single before closing out the win and notching his 31st save. The Reds rank 30th out of 30 teams in the Majors in turning double plays this season, but Monday's 6-4-3 play was about as good as it gets.
"It's one of those that's just weird," Cozart said. "You don't really work on that one too much. It's a slow roller. You catch it and have to completely turn your whole body. You have to almost act like you're going to throw it into center field to get it to go perfect. If you try to throw it straight to second base, it's going to tail off. It was tough, but Brandon turned it good and it was a big play for us."
Mark Sheldon is a reporter for MLB.com. Read his blog, Mark My Word, and follow him on Twitter @m_sheldon. Jeremy Warnemuende is an associate reporter for MLB.com. This story was not subject to the approval of Major League Baseball or its clubs.