Corbin's CG, Goldschmidt's slam lift D-backs in Cincy
Corbin's CG, Goldschmidt's slam lift D-backs in Cincy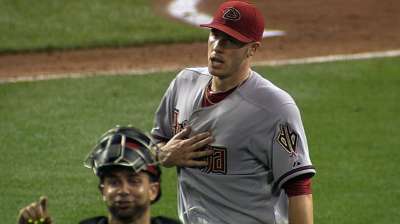 CINCINNATI -- It is no secret that first baseman Paul Goldschmidt and left-hander Patrick Corbin have carried the D-backs this season.
So it was no surprise that when the team needed a win in a crucial series against the Reds, it was those two who stepped up.
Goldschmidt blasted a grand slam and Corbin tossed a complete game as the D-backs beat the Reds, 5-2, on Tuesday night at Great American Ball Park.
Corbin (13-3) allowed six hits and did not walk a batter while fanning 10 in tossing his second complete game of the year.
It was a win the D-backs had to have after dropping the first game of the four-game set Monday. Arizona now trails the Reds by five games in the battle for the second National League Wild Card spot. The D-backs remained 7 1/2 games in back of the first-place Dodgers in the NL West.
"We have some work to do, there's a lot of good teams ahead of us," Goldschmidt said. "We've just got to keep trying to play well. It's nice to get the win, but we've got to play well for every game the rest of the year, a majority of the games."
The game was a taut 1-0 affair until the eighth inning.
In that frame, the D-backs loaded the bases with three straight hits against Reds reliever Sam LeCure, the first of which was a single by Corbin.
Cincinnati then brought in J.J. Hoover to face Goldschmidt.
Hoover, whom Goldschmidt had faced in Double-A, was riding a 26 1/3 scoreless-innings streak, the longest active streak in the Majors, but Goldschmidt made it inactive in a hurry as he lined a 3-2 pitch over the wall in left to increase Arizona's lead to 5-0.
"We got a couple of hits in a row, and then Goldy came up like he always does and it just seems like if there's guys on base he just does something in a close game," Corbin said.
It was the 31st homer of the year for Goldschmidt and also gave him an even 100 RBIs, tops in the NL. The grand slam was his third of the year as he became the first D-backs player to hit three in a season.
Goldschmidt's numbers are impressive enough to put him in the Most Valuable Player discussion, but don't expect Goldschmidt to know them. Until reporters told him postgame, he did not realize he had 100 RBIs.
"They said congrats on 100, so I knew it was either that or at least 100, I don't know," Goldschmidt said. "My goal, like we've talked about all year, is just showing up and trying to have good at-bats, work hard, prepare the stuff I can control. You know RBIs are out of your control. I mean, really, in that situation I'm just glad to give Patrick some run support and some insurance runs right there and obviously win the game."
The game had figured to be a pretty good pitchers' duel between two young left-handers in Corbin and Cincinnati's Tony Cingrani, but Cingrani was forced to leave with two outs in the fourth after suffering a strain in his lower back. He had retired his first 10 batters.
Just before Cingrani left the game, Martin Prado connected on a 1-1 pitch and drove it over the wall in left for his 12th homer and a 1-0 Arizona lead.
The lone blemish on the night for Corbin came in the eighth, when Chris Heisey hit a two-run homer to pull the Reds to within three runs, 5-2.
"The inning before, we had gotten the four runs, so we had the lead 5-0, so I wanted to throw strikes and get ahead, and he put a good swing on it and took it out," Corbin said.
Much of Corbin's success this year has come because of his slider, a pitch that can be tough for opposing hitters to pick up. Tuesday he might have had his best slider of the year, and it showed in how he handled Cincinnati left-handed hitters Shin-Soo Choo, Joey Votto and Jay Bruce. The trio was 0-for-12 with seven strikeouts.
"He can pitch," Reds manager Dusty Baker said. "He throws that fastball in and out. He comes right at you. Then he'll throw some breaking balls. He has a couple of different breaking balls. He threw the ball well tonight. Very rarely do you see anybody make Joey look like that."
Steve Gilbert is a reporter for MLB.com. Read his blog, Inside the D-backs, and follow him on Twitter @SteveGilbertMLB. This story was not subject to the approval of Major League Baseball or its clubs.