Reds' hard charge slowed in setback vs. D-backs
Reds' hard charge slowed in setback vs. D-backs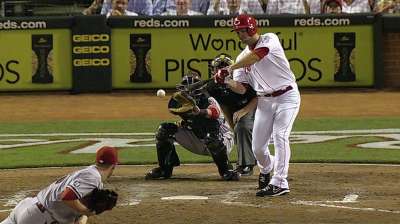 CINCINNATI -- The Reds had been on a roll lately but found Tuesday night how momentum can be fleeting, especially when circumstances seemed to conspire against them all at once.
A strong night by Reds lefty Tony Cingrani was derailed by a back injury. A breakout sensation from the bullpen, J.J. Hoover, saw his Major League-leading scoreless-innings streak go kaput on a Paul Goldschmidt grand slam. All of this while D-backs lefty Patrick Corbin rendered most of the offense moot for a complete game.
Add it all up and the Reds had a deflating 5-2 defeat vs. Arizona. Entering the night, Cincinnati had won seven of its previous nine games.
"He threw the ball well tonight," Reds manager Dusty Baker said of Corbin. "Very rarely do you see anybody make Joey [Votto] look like that."
Votto, along with fellow lefty hitters Shin-Soo Choo and Jay Bruce, were a combined 0-for-12 with seven strikeouts.
At the beginning of the night, Cingrani looked like he was both willing and able to match Corbin's quality. He retired his first 10 batters but saw his 1-1 pitch in the fourth inning to Martin Prado deposited into the left-field seats for a homer that snapped a scoreless tie.
Goldschmidt followed with a walk, but with Aaron Hill batting, he was caught stealing on a nice pickoff move by Cingrani. Hill hit a two-out double to left field and, moments later, pitching coach Bryan Price came to the mound and summoned head trainer Paul Lessard and Baker. At only 54 pitches, Cingrani was removed and later diagnosed with a lower back strain.
"We were quite surprised," Baker said. "He was throwing the ball well, probably as well as he has all year, so for him to say something is wrong with him and for him not to continue, it had to be pretty serious. It shocked us all. Then we had to turn it over to our bullpen earlier than we expected."
Cingrani, who laid down a sacrifice bunt in the third, did not identify a specific point when he became injured. He apparently had been feeling some discomfort for a couple of weeks but did not report it to the club.
"It didn't happen with the bunt. It came about gradually and just hurt," said Cingrani, who finished with one run and two hits allowed over 3 2/3 innings. "I'm pitching my next outing. That's for sure. It's not bad."
Alfredo Simon took over from the bullpen and delivered with 2 1/3 scoreless innings. Sam LeCure, who has been sensational most of the season, had a scoreless seventh before danger lurked in the eighth.
LeCure had one out in the eighth, when Corbin hit an 0-2 pitch for a lined single to right field. A.J. Pollock followed with a single to right field and the third straight hit came when Prado, who is second in the National League with 21 double plays grounded into, rolled a ground ball that got through the right side.
"We tried to get two innings out of Sammy," Baker said. "That's probably more than he's dealt with in a while. And boy, what really hurt is the 0-2 hit to the pitcher."
To replace LeCure, Baker summoned Hoover for the unsavory situation of having the bases loaded with one out and NL MVP candidate Goldschmidt up. Hoover carried the Majors' longest active scoreless streak among relievers at 26 1/3 innings and 23 appearances.
After running the count full, Hoover left a 94 mph fastball up, and Goldschmidt lined a grand slam into the left-field seats for his 31st homer and a league-leading 100 RBIs.
"I made a really bad pitch with my fastball when the hitter knew a fastball was coming," Hoover said. "I faced Goldy a bunch of times in the Minors, and you can't miss up there."
Noted Goldschmidt: "He got ahead first pitch, then I got ahead, 2-1, fouled a pitch off, had a good pitch to hit, and then he missed 2-2 with a fastball away, and 3-2 I'm just trying to put something in play. He threw a fastball, and I was able to hit it hard and get it up in the air and get it out of there."
The untimely end of Hoover's scoreless streak proved more critical in the bottom of the inning. Chris Heisey wiped out Corbin's shutout bid with a two-run homer to left field.
"I don't think about that at all," Hoover said of his streak. "I'm just upset that I gave up that home run, and then Heisey comes back and would have put us ahead if I had kept that score where it was."
Arizona picked up a game on Cincinnati in the standings for the second NL Wild Card spot and trails by five games.
Mark Sheldon is a reporter for MLB.com. Read his blog, Mark My Word, and follow him on Twitter @m_sheldon. This story was not subject to the approval of Major League Baseball or its clubs.