Infielder Johnson released by Royals
Infielder Johnson released by Royals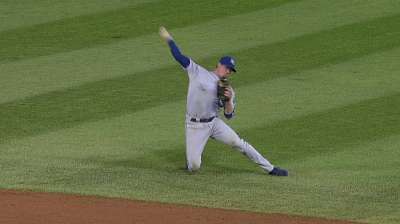 KANSAS CITY -- Infielder Elliot Johnson was released by the Royals on Monday.
Johnson played in 79 games with a .179 average, two home runs, nine RBIs and 14 stolen bases. He came to Kansas City as the player to be named in the big offseason deal that also brought pitchers James Shields and Wade Davis from Tampa Bay.
Johnson was designated for assignment last Thursday.
The Royals had indicated that if Johnson cleared waivers, as he did, that he might be offered a spot with Triple-A Omaha. However, they have bolstered their infield options with the acquisitions of Jamey Carroll from the Twins and Emilio Bonifacio from the Blue Jays.
Dick Kaegel is a reporter for MLB.com. This story was not subject to the approval of Major League Baseball or its clubs.