Spot-starter Cloyd can't overcome rocky start
Spot-starter Cloyd can't overcome rocky start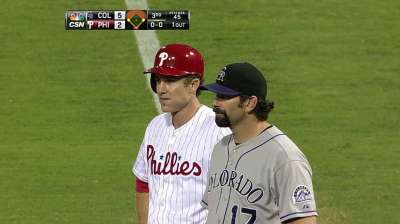 PHILADELPHIA -- It is hard to believe, but just two years ago Roy Halladay, Cliff Lee, Roy Oswalt, Cole Hamels and Joe Blanton appeared on the cover of Sports Illustrated as one of the most touted rotations in baseball history.
It is a different story today.
Lee and Hamels are the only holdovers from that cover on the 25-man roster. They watched Tyler Cloyd struggle early on Tuesday in a 5-3 loss to the Rockies at Citizens Bank Park, although a phantom tag from Rockies first baseman Todd Helton in the seventh inning helped secure the victory.
Meanwhile, Halladay on Tuesday grinded through a rehab start 75 miles away with Class A Lakewood, trying to extend his career following right shoulder surgery in May. Oswalt watched the game from the Rockies dugout, injured and still searching for the form that boosted the Phillies rotation in 2010. And Blanton has been dumped from the Angels' rotation into the bullpen, pitching with a 2-13 record and a bloated 6.03 ERA.
Starting pitching had been Philadelphia's strength in seasons past. It led them to a franchise-record 102 wins in 2011.
But Phillies starters entered Tuesday with a 4.25 ERA this season, which ranked 21st in baseball. They have been even worse since the All-Star break, with a 5.79 ERA, which is easily the worst in baseball.
It looks even worse for the Phillies when compared to the rest of the National League East -- the Marlins (3.43 ERA since the break), Braves (3.48 ERA), Mets (3.51 ERA) and Nationals (3.93 ERA).
"Cliff Lee was an All-Star this year," Phillies interim manager Ryne Sandberg said. "He's pitched well. Cole Hamels has pitched better than his record. Kyle Kendrick, he's had some good games. [Jonathan] Pettibone was showing some quality and filled in nicely when he came up. And we had the injury with Doc, so those were big shoes to fill right there."
The Phillies will have to find a way to improve if they expect to compete in 2014. They are confident Hamels and Lee can lead the way. They believe Kendrick can be reliable, despite his recent struggles. It seems likely those three return, but after that there are questions.
Halladay is a free agent after the season, and he might not be back unless he shows the Phillies something before the end of the season. John Lannan is facing season-ending knee surgery, which will take 4-6 months of recovery. He is eligible for salary arbitration, but the Phillies could non-tender him. Pettibone has shown some promise. He made a rehab start on Tuesday with Triple-A Lehigh Valley, allowing three runs on 10 hits with one strikeout in six innings.
The Phillies had agreed to a $48 million deal with Cuban right-hander Miguel Alfredo Gonzalez, but that deal might no longer happen. It seems like health concerns are the reason for that.
Cloyd pitched in place of Lannan on Tuesday. He allowed a two-run home run to Troy Tulowitzki in the first inning to make it 2-0 and a solo homer to Wilin Rosario in the third to make it 5-0.
"Just trying to do too much, trying to be too fine," Cloyd said. "Mechanics wore down a little bit. Trying to make the perfect pitch every pitch and things started running back over the plate."
He settled after that, finishing with three scoreless innings, but the damage had been done.
"Starting pitching really sets the tone for the game," Sandberg said. "When the pitcher can put up some early zeros, I think the offense feels better about that. And then the offense can work on getting some runs on the board. But we needed some innings out of Cloyd, and he put the three zeros up there which helped the bullpen and it gave us a chance to come back. We were still in the game for the last 3-4 innings."
The Phillies scored three in the third inning, but could get no closer. They had a chance in the seventh with two on and two out, when Jimmy Rollins hit a ball down the third-base line. Rockies third baseman Nolan Arenado made a spectacular play, throwing out Rollins as his momentum carried him into foul territory.
Or did he?
Helton never applied the tag, but Rollins didn't argue the call. Sandberg said Rollins told him he "felt some contact over there, he felt like a tag was applied."
Sandberg said he never argued because Rollins didn't protest.
"That was the biggest thing, Jimmy had no argument," he said. "He told me later he felt something over there on his back. From my angle, I just saw a throw that was slightly up the line with a swipe tag. I based it on Jimmy's reaction."
"I don't know if you'd call it selling it," Helton said. "It's just my natural reaction to think I tagged him, even though it didn't work out that way. It worked out great."
Todd Zolecki is a reporter for MLB.com. This story was not subject to the approval of Major League Baseball or its clubs.