Twitter, Facebook not for Sandberg
Twitter, Facebook not for Sandberg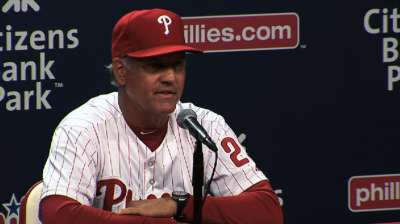 PHILADELPHIA -- Don't expect to see Phillies interim manager Ryne Sandberg on social media anytime soon.
Like, ever.
"I've had a lot of pressure from my five kids, who range from 28 to 34 years old, all over me about having Facebook and Twitter accounts and all that and how good that would be," Sandberg said before Tuesday's game. "I haven't gone that route yet. I text. A lot of texts. But the Twitter thing and all that, me personally, I don't see how anything good comes out of that. I don't see why I need to share every thought or some thought I have on a subject and throw it out there. I think, for me, I see only bad things happening from that. And Facebook, talk about not having any privacy."
Todd Zolecki is a reporter for MLB.com. This story was not subject to the approval of Major League Baseball or its clubs.