Helton approaching milestones as he hits 40
Helton approaching milestones as he hits 40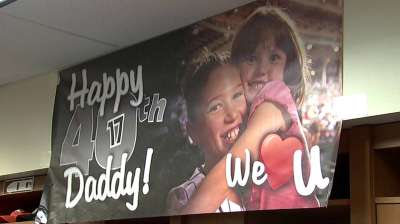 PHILADELPHIA -- Rockies first baseman Todd Helton arrived at Citizens Bank Park on Tuesday to see a large, colorful banner picturing his two daughters wishing him a happy 40th birthday.
Helton's birthdays have almost always been happy on the field, as he entered 19-for-50 (.380) with five home runs, five doubles and 12 RBIs on Aug. 20. Now, most of his hits go down in history. He entered Tuesday night's game tied with Hall of Famer Robin Yount for 17th on the all-time doubles list with 583 -- two behind Rafael Palmeiro. He also was seven hits shy of 2,500.
"I don't know how many more there are going to be," said Helton, who brought his family along to Philadelphia and has spent the last two mornings touring the historic sites in the city. "When you see the end, it makes it a little easier to go out and give a little bit more."
When Helton debuted with the Rockies in 1997, his locker was positioned beside veteran shortstop Walt Weiss, who now manages the Rockies. Weiss said he takes time to marvel at Helton's accomplishments, even during games.
"Whenever he hits a double, hits a home run or drives a run in, he's passing one of the all-time greats," Weiss said. That speaks for itself."
Helton, a .317 career hitter who entered Tuesday batting .254 with eight home runs and 40 RBIs this season, counts being healthy enough to play at this point as an accomplishment. Last year he was already done by this time because of right hip labrum surgery. Several seasons have been affected or shortened by back injuries.
Helton spent the early part of the year sharing first base duties with Jordan Pacheco, but has started most of the games the last two months, including Tuesday, when he hit fifth and played first base.
"In some regards it is cool, most people don't play this long," Helton said. "But when you look at it, it's a young man's game.
"If I can finish the season, that's a goal. It would obviously be better winning the World Series, but it would be a small moral victory."
Helton went 0-for-4 in Tuesday's 5-3 win over the Phillies, but did make a nice play when he tagged out Jimmy Rollins to get the third out in the seventh with two men on base.
Replays showed he missed the tag, but Rollins nor interim manager Ryne Sandberg argued the call.
Thomas Harding is a reporter for MLB.com. Read his blog, Hardball in the Rockies, and follow him on Twitter @harding_at_mlb. This story was not subject to the approval of Major League Baseball or its clubs.