Rockies struggling against new pitchers
Rockies struggling against new pitchers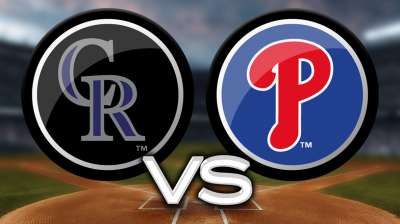 PHILADELPHIA -- Beginners are lucky more often than not against the Rockies.
The Rockies are 9-14 this season when facing a starter for the first time, and those pitchers have a 3.87 ERA with 126 strikeouts and 41 walks. The pitcher has thrown six or more innings and given up two or fewer runs 11 times. Included in that was a 13-strikeout, one-hitter by the Cardinals' Shelby Miller on May 10, and eight scoreless innings from the Braves' Tyler Skaggs on July 5.
The latest was Monday night, when the Phillies' Ethan Martin held the Rockies to two runs on four hits and two walks in 6 1/3 innings, with six strikeouts, in a 5-4 Phillies victory.
Some patterns have emerged. Even if the pitcher is a hard thrower, he is often mixing more and trying to entice hitters to chase. It's an indication that teams go in expecting the Rockies to swing aggressively, and at times hitters don't adjust quickly enough to succeed.
"When you're facing somebody you've never seen before and you're an aggressive team, the pitcher gets an advantage," said Rockies veteran Michael Cuddyer. "I was a glaring example, swinging at the very first pitch I've ever seen from that guy [Martin] -- a slider that I tapped right back to him. That wasn't smart. I was mad at myself."
It's not that an aggressive approach is necessarily bad.
"That's how we succeed against guys we've seen before, and guys that throw strikes, but it's tough to do that against a pitcher you've never seen before," Cuddyer said. "We should address it. Against guys we've never seen before, we need to see a couple more pitches. It just could be your first at-bat, really. In that at-bat, you can get a good grasp of what a guy's got and what a guy's featuring."
Martin earned five of his first six outs via strikeouts and was fine until the seventh. But Troy Tulowitzki homered to open that inning, and Wilin Rosario two-run double three hitters later drove Martin from the game.
Tulowitzki acknowledged that the Rockies could stand to be more efficient, such as hitters sharing information after their at-bats, but cautioned against going overboard in trying to figure out the opposing pitcher.
"That's thinking too far, too much about hitting -- you go up there, get a good pitch and try to hit it," he said. "If you don't, hopefully you take it. But if you start thinking, 'I've got to change my approach,' that's when guys start to get into trouble."
Rockies hitting coach Dante Bichette said adjusting to a new pitcher is merely one of many hitting challenges.
"You can over-think the situation, but it depends on how you feel, too," Bichette said. "To me, I feel 20 percent of the time you've got no chance, don't have it that day, and 20 percent of the time it doesn't matter what they throw -- you're going to hit it hard. It's that 60 percent of the time where you're in between. It separates the men from the boys. You've got to be smart and understand what they're doing to you."
Philadelphia's Tuesday starter, Tyler Cloyd, faced the Rockies on Sept. 9, 2012, allowing four runs in four innings.
Thomas Harding is a reporter for MLB.com. Read his blog, Hardball in the Rockies, and follow him on Twitter @harding_at_mlb. This story was not subject to the approval of Major League Baseball or its clubs.