Bautista lands on DL with bruised left hip
Bautista lands on DL with bruised left hip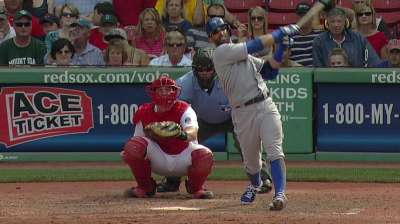 NEW YORK -- Blue Jays right fielder Jose Bautista was placed on the 15-day disabled list late Tuesday night with a bone bruise in his left hip.
Bautista will be shutdown for the next two weeks before he can be re-evaluated. There is no immediate timetable for his return to the Blue Jays' lineup, but he cannot participate in baseball activities until at least the beginning of September.
Manager John Gibbons originally felt Bautista's injury occurred during the club's recent homestand, but Bautista revealed on Tuesday night that it is something he has been dealing with for approximately two weeks.
"It just kept getting worse and worse, and worse," Bautista said after Toronto's 3-2 loss to the Yankees in the nightcap of a doubleheader at Yankee Stadium. "It got to the point today that after a day off and taking anti-inflammatories it got to enough pain that I got a little worried.
"The problem is not that it's just a bone bruise, but the spot that it's in. Every time I land my leg, it's in a spot where it hurts every single time. Just taking off or slamming on the breaks, it creates enough pain for me not to be performing up to 60, 70 percent of what I can go at."
Bautista said he couldn't recall the exact moment or game when he sustained the injury, but that it occurred while he was attempting to score. He attempted to play in Game 1 of Toronto's doubleheader on Tuesday, but lasted just three innings before he had to be removed from the game.
The Dominican native was informed that the best treatment for his injury is rest. It's supposedly not something that could eventually require surgery, but it's also an area of the body that doesn't respond well to aggressive treatment.
For now, Bautista will undergo regular therapy and eventually start riding a stationary bike in approximately one week. With less than a month and a half remaining in the season there was some debate about whether Bautista would be able to play again this year, but that's something he attempted to dismiss during a media session.
"I'm not expecting to be shut down," Bautista said. "From what the doctor said, and I have full trust in his diagnosis, after the two weeks he expects the bone bruise to be somewhat healed if not completely, then after that a couple days of baseball action, and I'll be ready to go."
Rajai Davis moved to right field to replace Bautista on Tuesday afternoon, while Anthony Gose entered to play center. Those two will join rookie Kevin Pillar in the outfield until Bautista is able to return to the lineup while a corresponding roster move is expected to be announced on Wednesday afternoon.
"It's an opportunity for guys to make a name in this game," Gibbons said of the additional playing time. "Get an opportunity -- that's how you make it in this business."
Bautista is hitting .259 with 28 homers and 73 RBIs, and he has an .856 on-base plus slugging percentage. In 2012, Bautista's season was cut short after 92 games due to a tendon injury in his left wrist that required surgery.
Gregor Chisholm is a reporter for MLB.com. Read his blog, North of the Border, and follow him on Twitter @gregorMLB. This story was not subject to the approval of Major League Baseball or its clubs.