Cano's four hits key Yankees' winning rally
Cano's four hits key Yankees' winning rally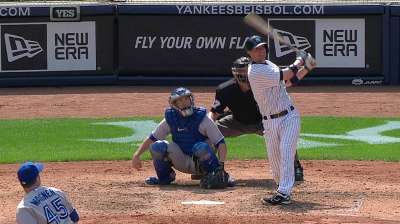 NEW YORK -- Robinson Cano celebrated the occasion of his 200th career home run by collecting four hits and driving in four runs for the Yankees, who outslugged the Blue Jays, 8-4, in the first game of a day-night doubleheader on Tuesday.
Chris Stewart also hit his first home run in more than three months for the Bombers, who won for the seventh time in nine games. Ichiro Suzuki notched two hits in the contest, increasing his career total between Japan and the U.S. to 3,999.
"As a kid, you always dream to be able to hit one," Cano said. "Then, to hit 200, it means a lot to me. We're in a situation where we need to win games. It's good to hit 200, but the great thing is that we won."
Cano connected for his three-run drive off starter Esmil Rogers in the third inning, depositing the ball into Monument Park beyond center field, where the milestone ball was retrieved by a member of the Yankees' security staff. Cano became the 16th player to hit 200 home runs in a Yankees uniform.
"He's been swinging the bat really well, and that's special," Yankees manager Joe Girardi said. "Two hundred home runs -- that's a lot of home runs, and obviously, he's got a lot of career left in him. He had a big day. He got us right back in the game with that three-run homer. Things seemed to pick up after that."
Stewart gave the Yankees the lead for good with his sixth-inning homer to left field off Toronto's Neil Wagner, marking the light-hitting catcher's fourth home run of the season and his first since May 15, a span of 173 at-bats.
"It's not an everyday thing," Stewart said. "I don't know; hell might freeze over now. It's definitely nice to contribute. I try to do the job and take care of the pitchers behind the plate first. It was big to be able to drive those runs in and take the lead again."
The pair of homers supported a solid outing from right-hander Ivan Nova who scuffled as the Blue Jays batted around in a shaky four-run second inning but settled down to hold Toronto to just those runs over 6 1/3 innings, winning his third straight decision.
"They made me throw a lot of pitches, but after that, I just tried to get quick outs," Nova said. "You're pitching to keep your team in the game. That's my mindset."
Rajai Davis' two-run double was the big blow in the second against Nova, who also surrendered an RBI single to Maicer Izturis and a run-scoring Kevin Pillar groundout. Nova walked two and struck out two in the 88-pitch outing.
"I thought he bounced back well," Girardi said of Nova. "I thought his ball started to sink a lot. He got a lot of ground-ball outs. He wasn't doing it so much early in the game, but he got it going and gave us some distance, which was important."
Ichiro, who logged 1,278 hits in Japan, singled and doubled in the victory, running his total of Major League hits to 2,721. Rogers accepted the loss, allowing four runs and seven hits over five-plus innings in a makeup of a game that was rained out on May 19.
"It's tough to shut them down," Blue Jays manager John Gibbons said of the Yankees. "They have a powerful team, especially in this ballpark, where they're hitting some home runs lately."
Cano's fourth hit of the afternoon was a seventh-inning double, driving home Ichiro, and the Yankees added their final run on Brett Gardner's eighth-inning sacrifice fly.
"This lineup, we're just feeding off each other right now," Stewart said. "Everyone is hitting well. We're getting on base, we're putting pressure on the pitchers, forcing them to make bad pitches, and we're hitting them. It's nice."
Joba Chamberlain logged an out in the ninth before Mariano Rivera entered in a non-save situation, closing out the afternoon victory. Phil Hughes and Mark Buehrle were scheduled to start the second game of the doubleheader.
"Just win the game that we're playing," Girardi said. "Our guys went out and did that today. We got behind and got some big hits, and that's what we have to concentrate on."
Bryan Hoch is a reporter for MLB.com. Follow him on Twitter @bryanhoch and read his MLBlog, Bombers Beat. This story was not subject to the approval of Major League Baseball or its clubs.