Royals blanked by Danks' sleight of hand
Royals blanked by Danks' sleight of hand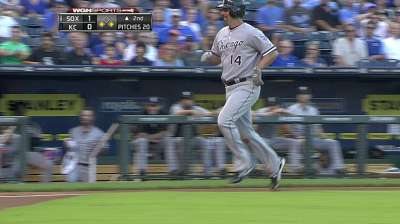 KANSAS CITY -- Enjoy magic? Wave a wand and watch baseballs disappear before your very eyes.
That's sort of what the Chicago White Sox did as they pulled a 2-0 victory out of a hat over the Royals on Tuesday night while 13,060 fans took in the show at Kauffman Stadium. Left-hander John Danks mystified the Kansas City batters -- again, improving to 6-0 against them in his career.
The loss, the Royals' sixth in their last eight games, cost them a chance to gain on the first-place Detroit Tigers, who lost to the Minnesota Twins.
As for the disappearing baseballs ...
This developed with Royals pitcher Ervin Santana as the reluctant center of attention. The ironic thing is that Santana's nickname is "Magic," but he took the brunt of these tricks.
In the first inning, Santana threw a 1-1 pitch and Gordon Beckham made the ball disappear somewhere over the left-field fence. Into the bullpen? Apparently not, because the Royals relief pitchers sat there motionless as if they had not seen a thing as dreadful as a White Sox home run.
"It ticks us off," said closer Greg Holland, one of the stolid sitters. "It's kind of a competitive thing."
Nevertheless, it was a home run. But that's an old disappearing ball trick.
Next came something very new -- never seen before, ladies and gentlemen, in the history of Kauffman Stadium!
In the second inning, Paul Konerko doubled down the left-field line and went to third on Avisail Garcia's single. Then, oops, a Santana pitch to Conor Gillaspie went off catcher Salvador Perez's glove and bounced to the backstop. And disappeared. Poof! Gone! Vanished! The mystified Perez motioned helplessly to show plate umpire Ron Kulpa there was no ball in sight.
"I was looking at Salvy, who was looking at me, and I was like, 'Where's the ball?'" Santana said. "And he was like, 'I don't know.' So it was hard."
Often when a pitch goes to the nearby backstop, it bounces back toward the catcher while the pitcher comes in to cover the plate.
"That's what I was waiting for but l-u-c-k-y me," Santana said sarcastically.
Too bad. Konerko trotted home to score on what was ruled a passed ball. What happened to that ball? Video replay showed it hopped over a revolving advertising sign in the board directly behind home plate and dropped inside, out of sight.
"It was weird, I didn't know where the ball had gone," Perez said.
When Perez looked, all he saw was an ad display touting, of all things, Kauffman Stadium's 40th anniversary. Well, this had to be a first for those 40 years.
Official ruling: Both runners get one base. You could look it up in Rule 7.05 (h) which provides an automatic one base if a pitch goes "over or through a field fence or backstop." No mention of an advertising board, but that, obviously, is part of the backstop.
Right fielder Justin Maxwell added to this unreality show when, after catching Gillaspie's fly ball, he threw home even though there was no runner at third.
"When the ball got lodged, Konerko wasn't even coming home," manager Ned Yost said. "The runner on first ran to third so [Maxwell] looked up and saw the guy on third base and thought that it was a two-base awardment because the ball got lodged. So when he went back to his position, in his mind, the guy was on third base the whole time."
Fortunately for the Royals, the faux pas didn't help the White Sox.
Anyway, it was 2-0, in favor of the now-you-see-it, now-you-don't White Sox.
Meanwhile, Danks didn't look like a guy who hadn't won in his last eight starts and was 2-10 for the season. He did, however, look like a guy who had a 5-0 career record and a 2.74 ERA in 12 starts against the Royals. He shut them out on seven hits through eight innings.
Eric Hosmer and Chris Getz each had two hits off Danks.
A couple of baserunning glitches, both involving Getz after each of his two hits, helped Danks. In the third inning, Getz took off from first base as Jamey Carroll hit a liner to center, thinking it would drop for a hit. But it was caught and Getz was doubled up easily at first.
"That wasn't a hit-and-run," Getz said. "He had two strikes and I had a good jump, so I just booked. That's one of those you're gambling, just trying to get something going."
In the eighth, Getz again led off with a single but was almost immediately picked off first base by Danks. This time the hit-and-run was on with Carroll at bat.
"He put a good move on me," Getz said. "We had something going there and, yeah, he caught me flat-footed. It's not any more complicated than that."
One last chance came as Billy Butler opened the Royals' ninth with a single against closer Addison Reed. Pinch-runner Jarrod Dyson stole second, but Reed got three quick outs for his 32nd save.
So the Royals' post-All-Star surge had stalled again.
"We certainly haven't cashed in or anything like that," Getz said. "We're grinding away. We're going to give it our all until mathematically we may or may not be out of it. "
The last-place White Sox, who have won four in a row and 10 of their last 15, were just happy to see those baseballs disappear.
"We're just trying to win games. If we have to do the hidden-ball trick to win, we'll take it," Beckham said. "We haven't really had a lot of bounces go our way this year, so it's nice to have that. I don't even know where it went. Still missing."
Dick Kaegel is a reporter for MLB.com. This story was not subject to the approval of Major League Baseball or its clubs.