Danks tosses eight scoreless innings to defeat Royals
Danks tosses eight scoreless innings to defeat Royals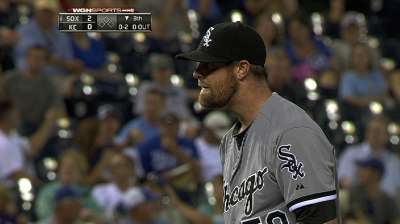 KANSAS CITY -- John Danks was tough on the Royals prior to his shoulder surgery a year ago, and he's still tough on them now.
Ending a winless drought that stretched back to July 2, Danks delivered eight shutout innings Tuesday night and boosted the White Sox to a 2-0 victory at Kauffman Stadium. Danks scattered seven hits and improved his career mark against Kansas City to 6-0.
Chicago couldn't muster much offense against Royals right-hander Ervin Santana, but a Gordon Beckham solo homer in the first gave the White Sox all they would need for Danks and closer Addison Reed.
"Today was probably the best command he has had all year long," White Sox manager Robin Ventura said of Danks. "He was continually throwing strikes with all of his pitches. For him to go eight innings against a lineup which has been tough on us is pretty good."
Danks had been 0-5 with three no-decisions before taming the Royals. He got double plays in the first and third that enabled him to settle in nicely as the White Sox (50-74) won their fourth in a row. The Royals (64-60) lost their third in a row.
Danks induced a double-play grounder from Billy Butler in the first and then felt a huge momentum surge in the third after Chris Getz led off with a single. Trailing 2-0, Getz took off and Jamey Carroll put the ball in play with a soft fly to center. Alejandro De Aza came racing in to make the catch, and Getz was easily doubled off at first.
"Off the bat, I thought that was a hit and it was going to be first and third," Danks said. "You go from two on and no outs to nobody on and two outs. That's a big turnaround."
Beckham's homer in the first came off Santana's money pitch -- a slider. It was just the fourth for Beckham this year after the second baseman hit 16 in 2012.
"To take a line from Clark Griswold, I don't think I would have been any more surprised if I had woke up with my head sewn to the carpet," Beckham said. "I definitely didn't think that was coming, but it was good to hit a home run."
Chicago's second run came in the second inning on a bizarre passed ball. With Paul Konerko at third, a Santana pitch eluded catcher Salvador Perez and disappeared under a padded area in the backstop. Konerko, who initially held up for fear that the ball would bounce right back to Perez, was awarded home plate.
"If we have to do the hidden-ball trick to win, we'll take it," Beckham said. "We haven't really had a lot of bounces go our way this year, so it's nice to have that. I don't even know where it went. Still missing."
The Royals, who won 17 of 20 after the All-Star break to zoom onto the playoff radar screen, have now dropped six of eight. Whereas Kansas City seemed to catch all the breaks in a late July sweep over the White Sox at U.S. Cellular Field, it was just the opposite on Tuesday night.
The Royals put their leadoff man on in the eighth when Getz singled, but Danks promptly picked him off.
"I decided I would give them my best [pickoff move] and see what happened," Danks said. "Fortunately, it worked."
Kansas City manager Ned Yost gave credit to Danks for keeping the Royals hitters in a general state of frustration.
"He kept his fastball down on the corner of the plate for the most part and had a good changeup and a good breaking ball," Yost said. "I don't think we really smoked a bunch of balls."
Danks went eight innings for the second time this year, and the White Sox are hopeful that Tuesday's outing is a sign of things to come.
"He has worked hard to get back to where he is," Beckham said of Danks. "The last four or five games, I feel like he has really picked it up. You can tell his stuff is a little bit better, getting back to the John Danks that we know."
Robert Falkoff is a contributor to MLB.com. This story was not subject to the approval of Major League Baseball or its clubs.