Schierholtz hopeful Cubs are long-term fit
Schierholtz hopeful Cubs are long-term fit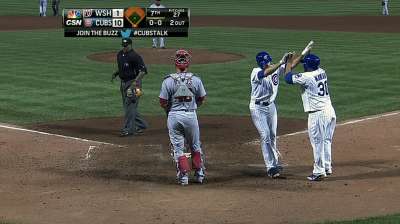 CHICAGO -- With the departure of plenty of notable names -- most recently David DeJesus -- fellow outfielder Nate Schierholtz said on Monday that he'd like to be a part of the Cubs' future. If he can continue to produce consistently, the feeling would most surely be mutual.
The right fielder has been a consistent contributor, after serving mostly in a utility/reserve role in San Francisco and Philadelphia for the first six years of his career, and he's taken his numbers to new heights. With 105 games under his belt -- he still gets the bulk of his at-bats against right-handers -- Schierholtz has 18 homers (his previous career-high was 9), 96 hits (previous high was 93) and 58 RBIs (previous high was 41). His .277 average is six points above his career mark.
"That was the way I got out of San Francisco," Schierholtz said. "I had the confidence that if I went somewhere with a shot to play at least almost every day, I'd be able to put up better numbers than I had. That's my goal, just to prove I can play every day."
Schierholtz went deep twice in the Cubs' 11-1 rout of the Nationals on Monday, driving in a career-high six runs.
The Cubs' outfield prospect pipeline is well-stocked -- two of their top three prospects, Albert Almora and Jorge Soler, are outfielders -- but they're short on veterans since DeJesus and Alfonso Soriano were traded away this summer. With guys like Brian Bogusevic and Ryan Sweeney expected to get looks, Schierholtz could be a presence the Cubs could count on possibly beyond this season.
"I'd like to be a part of the future here," Schierholtz said of the passing of the non-waiver Trade Deadline. "And I'm happy I'm not out of here."
Joey Nowak is a reporter for MLB.com. Follow him on Twitter at @joeynowak. This story was not subject to the approval of Major League Baseball or its clubs.