Castro slides down to eighth in Cubs' order
Castro slides down to eighth in Cubs' order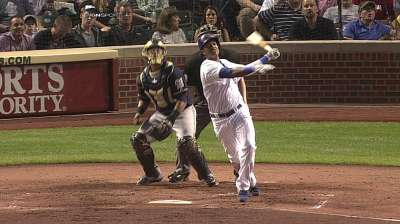 CHICAGO -- In a season full of lineup switches and swaps, Starlin Castro found himself in yet another unfamiliar spot on Tuesday night.
The Cubs shortstop, who hit primarily second or third over the course of his two All-Star campaigns in 2011 and 2012, was slotted into the No. 8 spot against the Nationals and right-hander Dan Haren on Tuesday.
It was the seventh different place in the order this season; he's never batted fourth or ninth, and has spent the most time in the No. 2 spot (79 games). But manager Dale Sveum said it was more a product of where the other eight batters fit, rather than where Castro deserves to be.
"It's just gotten to the point where [Donnie Murphy's] obviously doing his thing, [Darwin Barney], I really like the way he's been handling the bat and doing things and put him in the two-hole. Right now, obviously, things aren't going really well [for Castro] swinging the bat.
"[Welington Castillo's] been having great at-bats. Obviously getting [Brian Bogusevic's] left-handed bat in there, you don't want to put that in the eight-hole. So it's just one of those things right now, where it's just the only fit."
Castro is a career .285 hitter who's batted just .242 this year in his least productive season since he debuted in 2010. In each of his previous three seasons, he hit at least .283.
Joey Nowak is a reporter for MLB.com. Follow him on Twitter at @joeynowak. This story was not subject to the approval of Major League Baseball or its clubs.