Rusin battles, but bats held in check by Nats in loss
Rusin battles, but bats held in check by Nats in loss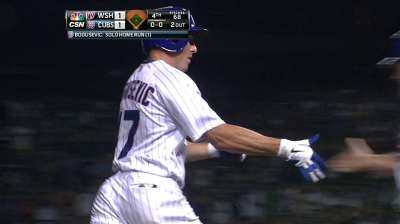 CHICAGO -- Tuesday night's ballgame was about opportunities, some missed and some capitalized upon. In the case of the Cubs, it was more the former. For the visiting Nationals, just enough of the latter.
Chicago left double plays unturned, pitches over the plate and men on the basepaths. Washington, which has been plagued by such issues over the course of a disappointing season, was guilty of it, as well. But the Nationals did just enough to come away with a 4-2 victory at Wrigley Field.
A night after erupting for 11 runs in the series opener, the Chicago bats fell quiet against Dan Haren and the Nats. The veteran righty gave up five hits, and the Nats made two errors, but the Cubs struck out eight times, stranded six and went 0-for-8 with runners in scoring position.
A team that has a propensity for the long ball -- both their runs came on solo homers, from Donnie Murphy and Brian Bogusevic -- has just as much trouble scratching runs across with situation baseball. Chicago ranks second in the league with 136 homers and dead last in batting average with runners in scoring position (.220).
"It is what it is right now. We score on home runs," manager Dale Sveum said. "Today, both solo home runs, from Bogey, and the Murphy show keeps continuing with a double and a home run. So hopefully that keeps continuing. We're struggling everywhere else right now."
Murphy has seven home runs since Aug. 6, a span of just 46 at-bats. Bogusevic, who hit his first as a Cub, was reinstated from the disabled list on Monday.
But the stars continue to fizzle rather than shine.
Three-hole hitter Anthony Rizzo went 0-for-3 Tuesday with runners in scoring position to drop his season mark in such situations to a paltry .173. Starlin Castro, moved to the eight-spot in the order, went 0-for-4 with a strikeout as his average fell to .240.
Left-hander Chris Rusin could be considered a bright spot, though he gave up 10 hits in 5 2/3 innings. But he limited the Nationals to just two runs.
"I couldn't find my two-seam [fastball] today, but I was able to find some other pitches to get me out of jams. And that's just the way baseball is," Rusin said. "Just made a couple mistakes that cost me, but I was able to get out of some jams. I helped myself out there."
Both teams had plenty of chances to make plays, and deliver key hits. They didn't always pull through, particularly in the first six frames. Darwin Barney and Castro couldn't turn a routine 4-6-3 double play in the first inning, then Ryan Zimmerman made them pay with an RBI double to left the following at-bat.
Washington had men on second and third with no outs in the second, then didn't hit a ball past the pitcher's mound. The Cubs went down in order after Murphy led off with a double the following half-inning. And Barney and Castro misplayed another double-play ball in the fourth before Bogusevic knotted the score at 1 in the Cubs' half of the inning.
Still, the Nationals committed errors in the first and the fifth, the latter allowing Rizzo to step to the plate with men on first and third and two outs thanks to an errant Zimmerman throw from third. But Haren caught Rizzo looking with a two-seam fastball that grooved the inner corner.
For the fifth time in six innings, the Nationals' leadoff man reached when Zimmerman doubled to lead off the sixth. Jayson Werth followed with a single, and Tyler Moore drove in Zimmerman with a grounder to deep short that Castro couldn't handle. Blake Parker, in to relieve Rusin, induced a groundout with the bases loaded to keep the deficit at 2-1.
The Cubs, too, had runners on in each of Haren's six innings. But they mounted just the one run against the veteran righty.
Drew Storen and Tyler Clippard combined for two scoreless innings for Washington to get the ball to Rafael Soriano, who picked up his 32nd save of the season despite allowing a solo homer to Murphy, his third homer in two games.
"I'm just trying to do my best to help this team win some games," Murphy said. "And I feel like I'm doing a pretty good job right now."
The Nats plated their final runs in the ninth, when Ian Desmond singled to right off Kevin Gregg to score Bryce Harper -- the run being charged to James Russell -- and Denard Span singled to center off Gregg to score Zimmerman.
"We were lucky to get two runs in the last inning," Nationals manager Davey Johnson said. "What, we had [14] hits? We had so many opportunities."
Joey Nowak is a reporter for MLB.com. Follow him on Twitter at @joeynowak. This story was not subject to the approval of Major League Baseball or its clubs.