Quality Cobb, late surge carry Rays to win over O's
Quality Cobb, late surge carry Rays to win over O's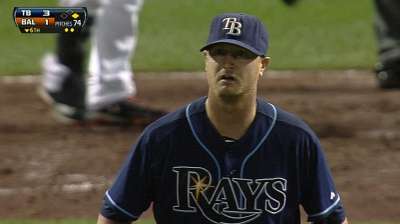 BALTIMORE -- Tampa Bay got a quality start from Alex Cobb, solid relief and some much-needed late offense in a 7-4 win over Baltimore on Tuesday night at Camden Yards.
The Rays (72-52) took the three-game series, claiming their third consecutive win along with their sixth victory in their last seven games. They also expanded their lead in the American League Wild Card race over the Orioles to 5 1/2 games and are 8-3 in their last 11 games against Baltimore.
"It's good [it's up to five games], because they're good," manager Joe Maddon said. "The Orioles are a really good ballclub, and they're still not going to go away. ... We played well in these two games. Our goal is not to be the Wild Card, by the way. Our goal is to win the division. ... We want to do that and watch the other two teams on that day."
Cobb picked up his eighth win of the season after making his second start since returning from a two-month stint on the disabled list following a concussion. He is 2-0 with a 1.64 ERA in those two outings.
The 25-year-old right-hander cruised through the first six innings, allowing one run and using just 79 pitches.
"Felt really good early on," Cobb said. "The curveball definitely helped me out early in the game, one through four, and then my changeup started working a little bit. So I established that I was going to throw in and out with the fastball early, and I got them to expand the zone a couple of times with my offspeed pitches because I was able to locate my fastball."
After six good innings, Cobb struggled in the seventh, turning over a bases-loaded jam to left-hander Alex Torres after allowing a single and two walks without recording an out.
Torres got Brian Roberts to hit into a double play that scored Matt Wieters and cut the lead to one run.
"[Maddon] just told me when I came in, 'Forget about the runners,'" Torres said. "'Focus on the guy you're going to face right now.' That's what I did. I just focused on Roberts, tried to get a ground-ball double play."
Torres finished his rescue by striking out Nate McLouth looking.
"They brought in that lefty with that really good changeup to do exactly what he did, and that's why they're such a tough team, because they can make life pretty tough on you," McLouth said.
For Torres, Tuesday was the third time he's entered a game with the bases loaded, and he has successfully maneuvered through each situation.
"Don't think I did not think about that," said Maddon, remembering Torres' scoreless escapes against the Tigers and Yankees earlier this season.
Jamey Wright pitched a scoreless eighth before the Rays batted in the top of the ninth clinging to a one-run lead and looking for a cushion to take into the bottom of the frame.
They got what they needed.
Kelly Johnson and Desmond Jennings cobbled together singles to get things started and moved to third on Ben Zobrist's groundout. With an open base, the Orioles elected to intentionally walk Evan Longoria to load the bases for the left-handed-hitting Matt Joyce, who would have to hit against lefty T.J. McFarland.
"Not all lefties are created equal," said Maddon when asked why he did not pinch-hit for Joyce.
Joyce, who had one hit in five career at-bats against McFarland, came through with a two-run double to right to push the lead to three runs. Wil Myers followed with a two-run single to right off Jim Johnson that pushed the lead to five runs.
"You go for the jugular in your last at-bat," Maddon said. "They came through again. Big hit for Wil. ... Of course, Matty Joyce against the left-hander, keeping it fair. A lot of good things tonight, really, truly a team win."
Turns out the Rays would need the cushion. Wieters hit a two-run homer off Wesley Wright in the bottom of the ninth before J.J. Hardy walked, prompting a call for closer Fernando Rodney to get the final three outs.
Rodney retired Ryan Flaherty on a flyout to left before Roberts popped out to first for the second out. Rodney finished his 29th save of the season by striking out McLouth.
Bill Chastain is a reporter for MLB.com. This story was not subject to the approval of Major League Baseball or its clubs.