McGee learning to handle pressure situations
McGee learning to handle pressure situations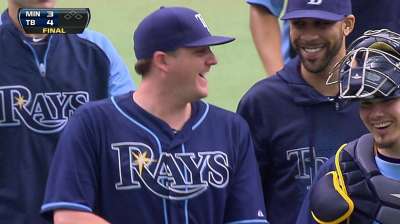 BALTIMORE -- Left-hander Jake McGee earned praise following Monday night's win when manager Joe Maddon said, "Tonight was all about Jake."
McGee entered the game in the seventh with two on and two out and escaped the jam. He then pitched a scoreless eighth through the heart of the Orioles' order, ending with swinging strikeouts of Adam Jones and Matt Wieters.
McGee needed just one pitch to get out of the seventh, retiring Brian Roberts on a groundout to shortstop.
"That helped a lot," McGee said. "I threw a fastball, and he went after it. It was a ball, but he hit it on the ground. It was down and away, but I knew he was going to be looking for a first pitch. I didn't want him to get anything up that he could hit the other way."
McGee's turning point this season came on May 10. Prior to that he had an 11.25 ERA, and opposing hitters were hitting .339. Since then he has a 1.70 ERA and .165 batting average against.
He attributes the difference to location "and making pitches in big situations. Earlier in the year, when I had runners on, I didn't make a good pitch in the situation and gave up multiple runs. Since then I've made my pitches when I've needed to make my pitches. And I know if I miss it's going to be OK, instead of knowing I have to make a pitch where I want it."
McGee has typically been a slow starter throughout his career.
"Even when I was a starter, I'd start slow, then from June to the end of the season, every year in the Minor Leagues, get stronger," he said.
He said that his success stems from a fastball mentality.
"I feel like if I put it in the right location, it's going to be hard to hit," he said. "It's almost like having a couple of different pitches if I throw it up or down, or in. They'll have to guard both sides of the plate instead of just looking for my fastball down the middle of the plate."
Bill Chastain is a reporter for MLB.com. This story was not subject to the approval of Major League Baseball or its clubs.