Moore excited about his progress
Moore excited about his progress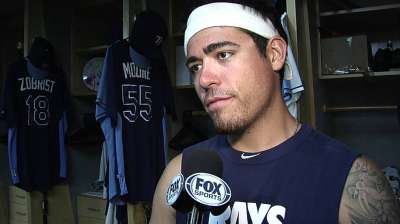 BALTIMORE -- Left-hander Matt Moore (sore left elbow) played catch with David Price in left field early Tuesday afternoon at Camden Yards, and he continues to be excited about the way he's feeling.
"It went really well, just like [on Monday]," Moore said. "Great game of catch, very clean. ... The progress we've made over the last four or five days has been significant, so I'm looking forward to tomorrow. I threw everything today. I threw changeups and curveballs, and it was fine."
Moore said that Tuesday was the first time he's thrown a changeup since his last start, on July 28 at Yankee Stadium.
"That's big," he said. "Was it in a game, throwing it off a mound against Robby Cano? No, but at the same time, having that clean arm stroke with the ball coming out the way it needs to ... [Price] reassured me that everything with the arm angle and the way that it was coming out looks exactly the same as it always does. I think the heater right now, my arm feels really fresh."
Moore is scheduled to throw a bullpen session on Wednesday, followed by a simulated game on Saturday.
"It's that time of year where if my bullpen goes great tomorrow, my sim game goes great, maybe we throw a light bullpen and try to make the [Angels series beginning Aug. 27 at Tropicana Field], and if not, the West Coast trip," he said. "If we're talking about one or two days at the end of all of this, I don't think we're going to do anything that's going to sacrifice all that time."
Manager Joe Maddon said there are a "whole lot of different" scenarios, and noted, "Let's just do the sim game and determine [the course of action] after that."
Bill Chastain is a reporter for MLB.com. This story was not subject to the approval of Major League Baseball or its clubs.