Giants, Lincecum struggle in loss to Red Sox
Giants, Lincecum struggle in loss to Red Sox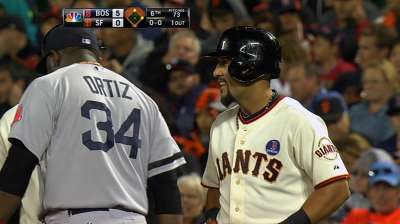 SAN FRANCISCO -- For Tim Lincecum, evaluating the Boston Red Sox was a challenge because he didn't challenge them enough.
"It's hard to decide," Lincecum said, "because I didn't execute my game plan."
By contrast, it was easy to see that Lincecum lacked his peak effectiveness. He allowed three second-inning runs that helped the Boston Red Sox cruise to a 7-0 Interleague victory Monday over the Giants, who looked mostly helpless against Red Sox starter Jon Lester.
Lincecum would prefer to omit this performance from his free-agency resume that will become widely circulated after the season. He lasted one batter into the sixth inning and yielded five runs and nine hits. As Lincecum indicated, he essentially took himself out of the game against the American League East leaders.
"More often than not, you're going to get hurt with pitches up in the zone," Lincecum said. "... The pitches that I was leaving up were middle-of-the-plate kind of up. So I wasn't really giving myself a chance to get out of anything."
Lincecum might have fared better with more effective put-away pitches. Stephen Drew and Shane Victorino singled on 1-2 deliveries during Boston's second-inning outburst. That flaw resurfaced with two outs in the fifth, when Drew drove an RBI double to the base of the center-field wall on a 3-2 pitch.
"My secondary stuff wasn't really biting the way it usually does, and the changeups were kind of rolling into the zone as opposed going down and away as they usually do," Lincecum said.
The right-hander identified the source of his struggles.
"My mechanics felt fine. It's just that my rhythm wasn't very good," he said. "The timing of my release point wasn't there. I wasn't hitting spots [regularly]. That was the problem."
Despite being tied for the National League lead with 13 losses and following a 10-15 finish in 2012, Lincecum has proven that he remains capable of being a useful starter. Since July 8, a span that includes his July 13 no-hitter at San Diego, he compiled a 1.42 ERA while striking out 47 batters in 38 innings in five quality starts. But in his three other outings during this stretch, he yielded 19 earned runs in 14 2/3 innings.
Catcher Buster Posey observed that Lincecum has improved overall.
"Without question," Posey said. "He's been doing a good job of keeping his fastball where he wants it more. When he's getting ahead, he's doing a nice job of putting guys away."
But it was Lester, not Lincecum, who accomplished that almost nonstop before an AT&T Park crowd that included a large contingent of Red Sox fans.
The left-hander dominated the Giants for 8 1/3 innings, surrendering six hits, all singles. Andres Torres collected three hits and Posey added a pair, a poor distribution that resulted in three Giants reaching second base.
"Jon was exactly what we needed," Red Sox manager John Farrell said. "We needed a strong pitching performance on a night when we could use a guy to go deep in the game and he gave us just that. He wanted every intention to finish out that game, but we had agreed he wasn't going to go out and grind the ninth inning just to get a complete game."
Despite winning two World Series in three years, the Giants haven't mastered Interleague Play. They fell to 4-11 this season against AL competition, which happens to be the Majors' second-worst record in that category. Only Colorado (4-14) has been less successful.
San Francisco's struggles can be traced to offensive futility, a weakness Lester exploited. The Giants have scored just 41 runs against Interleague foes, an average of 2.7 per game, while batting .221.
Chris Haft is a reporter for MLB.com. This story was not subject to the approval of Major League Baseball or its clubs.