Lack of support costs Cashner in duel
Lack of support costs Cashner in duel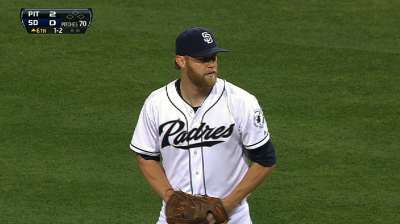 SAN DIEGO -- Baseball can be a strange game. There is no telling what might happen when the ball is put in play -- as the Padres learned the hard way Monday night at Petco Park.
But without at least consistently putting the bat on the baseball, there is only so much an offense can do -- another lesson brutally reinforced for the Friars in Monday's 3-1 loss to the Pirates.
San Diego hitters struck out 17 times -- including 13 against a dominant Francisco Liriano, who tossed seven scoreless innings and allowed just four hits. Given the lead in the fourth on a single that turned into two runs on a Chris Denorfia error, Liriano never blinked.
"The mix of pitches, combined, was I think as good as we've seen all year," San Diego manager Bud Black said.
Padres starter Andrew Cashner allowed a leadoff single in the fourth to Andrew McCutchen, setting the stage for Pedro Alvarez. The Pirates' cleanup man hit what appeared to be a soft, harmless single to right, but the ball scooted past the glove of a fast-charging Denorfia.
By the time center fielder Will Venable had chased it down, Alvarez was rounding third. He would score without a throw.
"I just missed it," Denorfia said afterward. "There's really no excuse for it. It's one of those plays. It cost us the game. I'm humbled for it. Sometimes this game will humble you. Today's one of those days for me."
In the top of the sixth, Alvarez took the more conventional route around the bases, crushing an 0-1 slider from Cashner into the right-field seats to give the Bucs a 3-0 lead.
Cashner was otherwise very good on the night, even though he conceded afterward that he did not have his best stuff and that his slider was not biting as hard as he would have liked. In seven innings, he allowed three runs -- one earned -- on just five hits and two walks while striking out three. Cashner has now pitched well in two straight starts but has picked up the loss in both.
"He's come a long way in a couple months, just as far as the in-game poise," Black said of Cashner's ability to put the error behind him and bear down.
Cashner refused to blame Denorfia's gaffe, which led to two runs -- the eventual difference in the game.
"It's just tough luck," Cashner said before bringing the conversation back to his own performance. "I've got to make better pitches all night, when you're facing a guy like Liriano."
The Padres could not touch Liriano early. Through three innings, the veteran southpaw had notched eight strikeouts as well as 14 swings and misses. (He finished with a season-high 24.)
"I was throwing my fastball in and out for strikes, so that made my breaking pitches easier to throw," Liriano said. "I could throw any pitch at any time. I had a lot of confidence in my pitches, and Tony [Sanchez] was blocking a lot of pitches behind the plate, so I could throw my slider at any time."
For as good as Liriano was -- and he was certainly very good -- the Padres have been whiffing at a high rate this entire homestand. In four games against the Mets over the weekend, they fanned 42 times.
"The swings with two strikes are not as short as they need to be," Black said. "We still have a number of guys taking the same swing with two strikes, expanding the zone with two strikes."
Venable, who went 0-for-4 on the night, had his hitting streak ended at 15 games. Still, he is hitting .356 since the All-Star break.
The Padres scored their lone run in the bottom of the ninth inning on Nick Hundley's RBI double against his close friend and former college teammate Mark Melancon. (Melancon was an usher at Hundley's wedding.)
Fittingly, however, the Pirates closer put the game away a batter later with what else but a strikeout.
AJ Cassavell is a reporter for MLB.com. Follow him on Twitter @ajcassavell. This story was not subject to the approval of Major League Baseball or its clubs.