Red Sox roll with unusual travel schedule
Red Sox roll with unusual travel schedule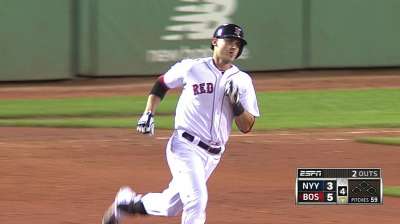 SAN FRANCISCO -- The Red Sox didn't finish their Sunday night game against the Yankees until after midnight ET.
By 9 a.m. Monday, they were back at Fenway Park packing onto the bus for a cross-country flight that departed Logan Airport at 10:20.
After landing in San Francisco at about 1 p.m. PT on Monday, most Sox players took a bus straight to AT&T Park for the 7:15 game against the Giants. Six or seven players went to the hotel first.
Such was the unique circumstance presented for the Red Sox by having a Sunday night game in Boston, followed by a game in San Francisco the next night.
"It's kind of all just a blur from last night," said third baseman Will Middlebrooks. "It's all kind of just meshed together. Got about four hours sleep, jumped on the plane, tried to get a little bit of sleep on the plane."
Middlebrooks was with the much more crowded bus that went straight from the airport to the ballpark.
"We had plenty of time to relax here," said Middlebrooks.
When faced with the same travel logistics in the past, the Sox had spent the entire night flying rather than going out on the day of the game.
Manager John Farrell was a big proponent of the modified travel plan because he still remembers the experience the Red Sox had in 2007 when they had a Sunday night game against the Yankees followed by a game in Oakland the following night.
"It's a little bit different because you're traveling the day of the game, but we went through a similar schedule situation coming out to Oakland, and for three days we walked around feeling it," Farrell said. "We wanted to avoid that. Thankfully the Red Sox organization took on an added expense to address what we felt was a pressing need."
Monday starter Jon Lester flew to San Francisco a day early, along with Tuesday starter Jake Peavy and catcher David Ross, who was activated from the disabled list.
Ian Browne is a reporter for MLB.com. Read his blog, Brownie Points, and follow him on Twitter @IanMBrowne. This story was not subject to the approval of Major League Baseball or its clubs.