Giants legend Clark impressed by Belt
Giants legend Clark impressed by Belt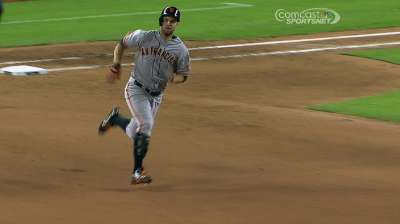 SAN FRANCISCO -- The knowledge that prompted Brandon Belt's hitting surge should continue to serve him well even through adverse times, said Will Clark, one of Belt's most esteemed Giants predecessors at first base.
Clark, a Giants community ambassador who occasionally works with current players, said Monday that he chatted with Belt in the batting cage and came away impressed with his aptitude. Belt, who entered the series opener against Boston leading the National League in August with a .776 slugging percentage, improved dramatically after he changed his hitting grip and began standing deeper in the batter's box.
"One thing we talked about was that now that you've had success making an adjustment, if you ever scuffle in the future -- and you are going to scuffle in the future; that's just the way this game works -- you can make an adjustment quicker and trust that it's going to pay off for you," Clark said.
Clark praised the Giants' hitting coaches for helping Belt tap into his potential.
"I feel good for Bam-Bam [Hensley Meulens] and Joe Lefebvre," said Clark, a six-time All-Star. "They've been working with him every day and he finally bought into their program and it's paid off for him."
Chris Haft is a reporter for MLB.com. This story was not subject to the approval of Major League Baseball or its clubs.