Delgado can't set tone as D-backs fall in Cincinnati
Delgado can't set tone as D-backs fall in Cincinnati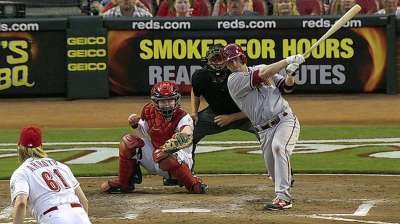 CINCINNATI -- Randall Delgado didn't turn in the type of start the D-backs were hoping for, and their four-game series with the Reds didn't begin the way they wanted.
Other than that, it was a fine summer evening in the Queen City.
Delgado allowed five runs over six innings as the Reds beat the D-backs, 5-3, on Monday night at Great American Ball Park.
With the loss, the D-backs fell six games behind the Reds in the battle for the final National League Wild Card spot. They did not lose any ground to the first-place Dodgers in the NL West, as they remain 7 1/2 games back.
"We've got to leave it behind and come tomorrow and even it up and try to win as many games as we can in this series," D-backs third baseman Martin Prado said.
With their bullpen taxed following a 16-inning game against the Pirates one day before, the D-backs were hoping Delgado (4-4) would pitch deep into the game.
That didn't happen.
"I feel like they had pretty good at-bats and they just scored when they needed to," Prado said. "We tried to come back, and actually it was a pretty close game. I feel like we had a couple opportunities where we could have put some more runs up, but unfortunately we couldn't."
The Reds scored a run in the second when Zack Cozart's sacrifice fly scored Brandon Phillips, who had led off the inning with a triple.
Phillips got the triple when center fielder Adam Eaton attempted to make the catch, and as the ball bounced off the wall, it got by him.
"He just got too close to the wall," D-backs manager Kirk Gibson said. "Early on, with nobody out, it's probably a ball you lay off and try to play it off the wall and get a guy on second with nobody out. That's just part of learning things. He thought he could catch it. He got too close, the ball got by him and they got a triple instead of a double and got an easy run out of it."
The D-backs tied the game in the fourth when Aaron Hill hit a two-out solo homer to left.
In the fourth, the Reds really taxed Delgado, forcing him to throw 25 pitches as they sent eight men to the plate, collecting three runs on four hits. Jay Bruce, Ryan Ludwick and Cozart each drove in runs during the inning, as the Reds went up, 4-1.
"If you can get consecutive hits, that's kind of what's missing around baseball," Reds manager Dusty Baker said. "When you get consecutive hits, you keep the pitcher in the stretch and you really can't get anybody loose on the other side quickly enough to stop it. That's great when you're getting those consecutive hits."
Looking back at the inning -- and his whole outing for that matter -- Delgado said he might have simply been throwing too many strikes and catching too much of the plate on a consistent basis.
"I felt good with the strike zone and everything," Delgado said. "But I should mix a little bit more. I was so over the plate, that every time they swung, they thought something was going to happen. I think I need to mix a little more and that's it."
Cincinnati added a run in the fifth when Todd Frazier led off with a home run.
The D-backs, who are second in the NL in comeback wins, made things interesting when they scored a pair of runs in the sixth on Prado's two-out bases-loaded single to close the gap to 5-3.
Bronson Arroyo (12-9) picked up the win for the Reds, as he allowed three runs on seven hits over six innings.
"It's a huge win for us," Arroyo said. "To get off to this series good, especially with me not feeling like I had my best stuff, it was nice."
Steve Gilbert is a reporter for MLB.com. Read his blog, Inside the D-backs, and follow him on Twitter @SteveGilbertMLB. This story was not subject to the approval of Major League Baseball or its clubs.