Manship falters, Phils keep Rox reeling on road
Manship falters, Phils keep Rox reeling on road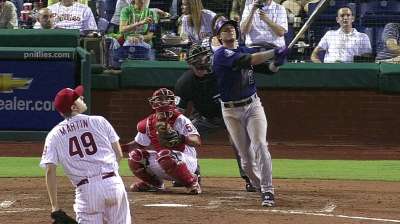 PHILADELPHIA -- The Rockies had one last chance at a rare road comeback, and they weren't about to be conservative with it.
Even before DJ LeMahieu singled off Phillies closer Jonathan Papelbon to open the ninth, Rockies manager Walt Weiss told him to steal second. But before the second pitch to the next hitter, LeMahieu took off, gave away the plan and found himself picked off. Two batters later, all the Rockies had was another road loss -- 5-4 at Citizens Bank Park in front of 35,269.
The Rockies (58-68) dropped to 1-30 on the road when the opponent scored first. After going 1-9 on their last road trip, they're 1-3 to start another 10-gamer. But after falling behind, 5-0, with Jeff Manship (0-3) giving up a three-run John Mayberry Jr. homer and a Carlos Ruiz solo shot, and seeing a potential comeback fall short in the eighth thanks to hard-throwing Phils reliever Jake Diekman, at least they tried everything they could.
"Walt [Weiss] just said [Papelbon] is pretty slow to the plate, so if you get on base, look to take a base," LeMahieu said. "We're not going to bunt. So I thought I had something on him and he got me."
Weiss said, "That's what I told him to do, pick a spot and try to steal a base. Papelbon happened to peek over the one time he was going."
Even with the near-comeback, there was a haunting familiarity to this loss. The Rockies couldn't adjust to Phillies rookie right-hander Ethan Martin (2-2), who shut them down until the very end of his 6 1/3 innings. Martin earned five of his six strikeouts in the first two frames, and had the Rockies -- who have had trouble with pitchers they haven't faced -- scoreless on two hits until the seventh.
Troy Tulowitzki led off the seventh with his 21st homer of the season, but first since Aug. 2. Later in the inning, Todd Helton made it 5-2 with an RBI on his 2,493rd career hit and 583rd double -- tied with Hall of Famer Robin Yount for 17th all-time.
Still, Martin had a good night.
"Martin was very good," said Phillies manager Ryne Sandberg, who was in his fourth game since taking over for Charlie Manuel, and enjoyed the Phils' first two-game win streak since the final games before the All-Star break. "The home run and the double drove in a run, but what I saw from him was a smoother performance. He really preserved his energy well."
The Rockies loaded the bases with no outs against Luis Garcia in the eighth. After Michael Cuddyer struck out chasing three sliders, Wilin Rosario singled for two runs to chase Garcia. The hit extended Rosario's hit streak to 10 games.
Diekman ran the misery rate of left-handed batters against him to 1-for-their-last-20 by fanning Helton.
"I feel like, watching him [growing up], like, [wow], this guy is pretty good," said Diekman, in his second season.
Diekman balked the runners to second and third, but struck out the right-handed hitting Arenado on a tipped 99-mph fastball. Righties were hitting .368 against Diekman entering Monday.
"He's a good pitcher and the ball moves a lot," Arenado said. "I tried to take my best hack, and it didn't work out for me."
Manship has given up 11 runs in 10 innings over his last two starts, but he felt better Monday than during a 7-5 home loss to the Padres in his last game. However, a fourth-inning hanging changeup to Mayberry, for his ninth homer this season, marred this outing. Ruiz's homer an inning later was his third.
"That was a pitch I had conviction throwing," Manship said. "The last time I faced Mayberry in a similar situation, I threw him a slider, and he ended up hitting a home run, so I was trying to stay away from that certain pitch in that [2-1] count. That's something I'm comfortable throwing.
"It's frustrating. I felt really good going into that fourth inning."
Thomas Harding is a reporter for MLB.com. Read his blog, Hardball in the Rockies, and follow him on Twitter @harding_at_mlb. This story was not subject to the approval of Major League Baseball or its clubs.