Mujica returns after resting arm for three days
Mujica returns after resting arm for three days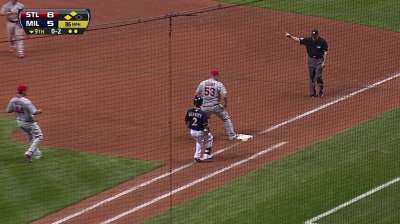 MILWAUKEE -- Closer Edward Mujica returned to action Monday after missing all three games of the Cardinals' weekend series in Chicago with arm fatigue, picking up his 32nd save in the Cardinals' 8-5 win against the Brewers.
Mujica pitched two innings in each of his last three appearances before Monday, something he had done this season just once in 48 outings prior. The 29-year-old right-hander said he approached Cardinals manager Mike Matheny on Friday -- the day after throwing two scoreless innings against the Pirates -- with concern for his arm.
"Mike and me have very good communication," Mujica said before Monday's game. "I just talked to Mike Friday and he decided to give me a couple days off and just get ready to go for this series. You know, I'm ready to go today."
Matheny said he hoped the "last few days here have worked and we got [Mujica] to a better place."
"He's just done more than he has all season," Matheny said. "He's one of the guys that I trust to be very honest, and when we started talking, and realizing things weren't right, had to make a move and slow him down. It's no fun going into a few games in a row knowing it's without your closer."
Kevin Massoth is an associate reporter for MLB.com. This story was not subject to the approval of Major League Baseball or its clubs.