Freese applauded for being 'absolute pro'
Freese applauded for being 'absolute pro'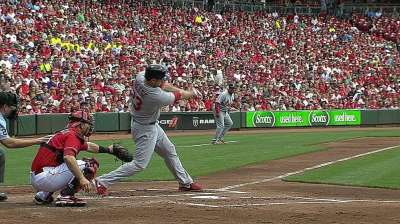 MILWAUKEE -- Times have not been easy for David Freese. The Cardinals third baseman has had to start sharing his playing time with some of St. Louis' young infielders during a career-low season.
How does Cardinals manager Mike Matheny feel Freese has handled the situation?
"Like an absolute pro. Like a professional," Matheny said. "Everybody around here is watching and acknowledging and admiring."
Freese -- the 2011 World Series MVP -- entered Monday with career lows in batting average (.265), on-base percentage (.343) and slugging percentage (.380) to go with six home runs and 43 RBIs in 103 games this year.
But Matheny said he is not overly worried, noting Freese would be in the starting lineup for the final two games in Milwaukee.
"David's going to be right back in there," he said. "He's going to be in there tomorrow and he's going to be in there on Wednesday. Hopefully it gets him a little rest and hopefully this will all work out and he gets on a tear a bit. He's handling it as well as anybody possibly could."
Kevin Massoth is an associate reporter for MLB.com. This story was not subject to the approval of Major League Baseball or its clubs.