Rzepczynski clarifies comments about Yadi
Rzepczynski clarifies comments about Yadi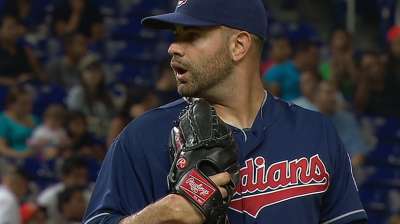 ANAHEIM -- Indians left-hander Marc Rzepczynski wants to make something clear: He does not blame his struggles in St. Louis earlier this season on catcher Yadier Molina.
Earlier this week, Rzepczynski said that his woes with the Cardinals were partially due to the fact that he never shook Molina off, even if the reliever did not like the pitch being called. The lefty thought more about his comments and felt they could have been interpreted the wrong way.
"I just want to make it clear that I wasn't calling Yadi out," Rzepczynski said prior to Monday's game in Anaheim. "Yadi's the best catcher in the game -- hand's down. He's the best catcher in the game. It's my fault when I don't execute a pitch, and it's my responsibility, if I don't like the pitch, to shake it off."
Rzepczynski, who was acquired from St. Louis prior to the July 31 non-waiver Trade Deadline, entered Friday with a 0.00 ERA and only three hits allowed through 7 2/3 innings with Cleveland. In 11 appearances for the Cardinals earlier this year, the lefty posted a 7.84 ERA with 16 hits surrendered in 10 1/3 innings.
Since joining the Indians, Rzepczynski has thrown fewer fastballs, while increasing the use of both his slider and changeup. In an article on MLB.com on Saturday, Rzepczynski said that "the motto in St. Louis is that you just don't shake Yadi off." Molina called for more fastballs than the left-hander was used to throwing, especially against right-handed hitters.
Rzepczynski was quick to say, however, that the only person to blame is himself.
"He's the best catcher in the game," Rzepczynski repeated. "He's so good at scouting and he's so good at what he does that, most of the time, he's right when it comes to how to approach hitters. But, if I'm not comfortable with a pitch, it should be my responsibility to shake it off. Starters shake him off all the time.
"I had success with him in '11 and '12. I rarely shook him off then, because he's usually right. I just want it to be known that I would never say anything bad about Yadi. I would never blame him for my struggles."
Jordan Bastian is a reporter for MLB.com. Read his blog, Major League Bastian, and follow him on Twitter @MLBastian. This story was not subject to the approval of Major League Baseball or its clubs.