Roenicke: Braun to speak when 'timing is right'
Roenicke: Braun to speak when 'timing is right'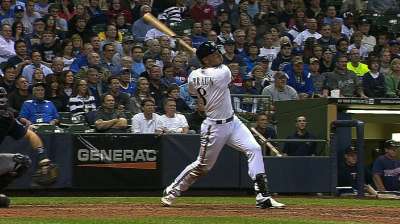 MILWAUKEE -- Suspended Brewers outfielder Ryan Braun will break his silence, manager Ron Roenicke reiterated on Monday.
The question at Miller Park, from the clubhouse to the upper deck, was: When?
"I hate to comment on some things, but I know what he's told me," Roenicke said. "When the timing is right, he's going to say something."
The timing and format of that something remained a mystery as the Brewers took batting practice on Monday afternoon. It was unclear whether Braun was planning to take any questions after delivering his statement.
Would Roenicke be satisfied if Braun merely releases a statement?
"Yeah," Roenicke said. "Sometime along the line, he's going to have to answer, whether we go into next year or whatever. I think there's different views on what he should do and what he should not do. Everybody's got a feeling. I don't claim to know what the right way is. I [aired] my opinions and how I feel about things, but everybody is a little different [in terms of] the advice that you get and the people you listen to, and then he has to make his decisions. He's getting a lot of opinions from people."
Potentially complicating that process was the fact Braun faces a defamation lawsuit filed in Milwaukee County last month by a former friend who allegedly worked on Braun's successful appeal during the 2011-12 offseason.
Roenicke spoke via telephone with Braun on Friday, one of several calls placed by Braun to uniformed and non-uniformed Brewers personnel to further explain the "mistakes" he admitted in accepting Major League Baseball's 65-game suspension.
Roenicke again declined to provide details of that conversation, but described Braun as eager to begin the public process of mending his tattered reputation.
"That's important to everybody," Roenicke said. "Those are things I've talked to him about even before all this stuff happened with the suspension. When it was rumored, we had a lot of long discussions about it, and I told him what I thought about what needed to be done, needed to be said. He's trying to do things the right way, and when he's ready, he'll say something."
Major League rules allow suspended players to work out with their teams, providing he leaves the field before the gates open to fans. Few players actually do so, and Roenicke does not expect Braun to be an exception.
"It's a distraction to the team," Roenicke said. "You've got extra work that somebody is going to take swings away from, and I don't see the need. If you're not going to play this year, I don't see the need."
Adam McCalvy is a reporter for MLB.com. Read his blog, Brew Beat, and follow him on Twitter at @AdamMcCalvy. This story was not subject to the approval of Major League Baseball or its clubs.