Astros recall LeBlanc, option Krauss to OKC
Astros recall LeBlanc, option Krauss to OKC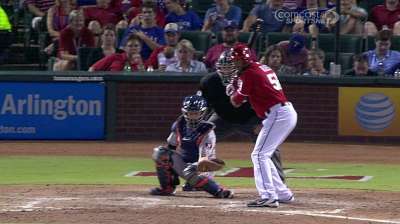 ARLINGTON -- The Astros on Monday called up left-hander Wade LeBlanc and optioned outfielder Marc Krauss to Triple-A Oklahoma City. Manager Bo Porter said the club needed another arm in the bullpen with right-hander Lucas Harrell starting and preferred a southpaw. Kevin Chapman was the Astros' lone left-handed option before LeBlanc's arrival.
"Looking at the condition of our bullpen the last two series and having to put Lucas in the rotation, it made sense to bring LeBlanc here," Porter said. "He's extended, he's started, he's pitched out of the bullpen, so he gives us multiple options for a guy who can go long or go short."
LeBlanc said he doesn't have any expectations in his second stint with the Astros this season. He was claimed off waivers in June from the Marlins and had a 9.82 ERA in three games with Houston.
"I'm ready to do whatever they need me to do to help this team," LeBlanc said. "Other than that, I'm just going to take it all in and enjoy it."
LeBlanc said he focused on executing his pitches against left-handed hitters while in the Minor Leagues. He went 3-1 with a 4.33 ERA in 14 games (seven starts) with Triple-A Oklahoma City, but had a 3.95 ERA and a .235 batting average against vs. left-handed hitters.
"All I'm looking for is for it to transfer up here," LeBlanc said.
Porter plans to stick with a six-man rotation with the recent shakeup.
"One of the benefits of having a six-man rotation is if we run into the situation like we ran into yesterday, we'll have that guy available who is on complete rest who can bridge the gap and give our bullpen a day off," the skipper said.
Master Tesfatsion is an associate reporter for MLB.com. This story was not subject to the approval of Major League Baseball or its clubs.