Tulo offers friendship to Braun, refutes recent story
Tulo offers friendship to Braun, refutes recent story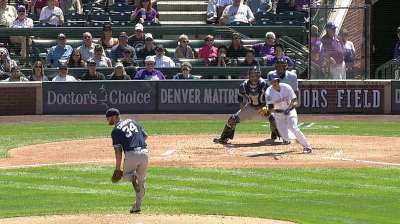 PHILADELPHIA -- Rockies shortstop Troy Tulowitzki said he offered friendship and support to suspended Brewers star Ryan Braun during Braun's appeal of his 2012 suspension for violating Major League Baseball's Joint Drug Prevention and Treatment Program.
Contrary to the contents of an ESPN story, which was confirmed by three sources, Tulowitzki said that, to him, Braun did not accuse sample collector Dino Laurenzi Jr. of being a Cubs fan or an anti-Semite during the appeals process.
Yahoo! Sports reported that Braun called Tulowitzki, Dodgers star Matt Kemp -- whom Braun beat out for National League Most Valuable Player after the 2011 season -- and Reds star Joey Votto, among others, lobbying for support.
Braun recently accepted a 65-game suspension under the Joint Drug Prevention and Treatment Program.
Since Braun agreed to the suspension, Tulowitzki said that he and Braun have texted but not talked, and the two have remained friends.
"I've previously said we are friends, and I've talked to him throughout the years many times," Tulowitzki said. "We kind of came up together, as far as in the same Draft, and kept in contact. I talked to him throughout the whole process. It was more as a friend. It wasn't anything more than that.
"He never tried to change my opinion of the subject or anything like that. It was more, 'Hey, how is this going? Is this taking a toll on you?'"
Of the allegation that Braun made accusations against sample collector Laurenzi, Tulowitzki said, "That wasn't our conversation. It was more just catching up. He never even said, 'Can you support me?' or anything like that. It was more, 'The truth will come out.'"
When told there were reports that Braun may soon speak publicly, Tulowitzki said, "I think everybody in baseball wants him to get whatever out that he needs to get out. Hopefully, he does it the right way.
"Good guy, man. Whatever happened, happened. Bottom line for me, my take on it, is he's a good guy. He's done nothing to harm me. He's been a great friend, someone I consider a friend and someone I have respect for.
"People, obviously, make mistakes. I definitely believe in forgiveness. Does it make it right? No. Not at all. But at the same time, I think we all make mistakes."
Tulowitzki said he doesn't believe his friendship with Braun reflects poorly on him.
"No, I couldn't care less about that stuff," Tulowitzki said. "At the end of the day, you know what you've done to get at this level. I don't worry about that."
Thomas Harding is a reporter for MLB.com. Read his blog, Hardball in the Rockies, and follow him on Twitter @harding_at_mlb. This story was not subject to the approval of Major League Baseball or its clubs.