Weaver's rocky fourth spoils series opener vs. Tribe
Weaver's rocky fourth spoils series opener vs. Tribe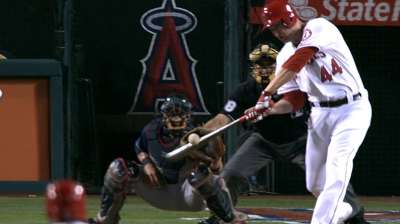 ANAHEIM -- Mike Trout is never more appreciated than on the rare nights he doesn't play.
Monday was one of them. A tight right hamstring was still bothering him by the early afternoon, so the 22-year-old superstar sat on the bench in the opener against Cleveland. And without him, the shorthanded Angels were predictably off their game in the 5-2 loss that dropped them to a season-worst 14 games below .500.
Jered Weaver had one bad inning out of six and the offense basically had nine forgetful ones against Zach McAllister and three members of the Indians' bullpen. They mustered six hits, drew three walks and even managed to score a couple times, but had only three at-bats with runners in scoring position and got very little outside of Mark Trumbo, whose ninth-inning solo shot gave him 29 homers on the year and one in each of his last three games.
Josh Hamilton, taking Trout's place in the No. 3 spot, entered with homers in back-to-back days and a .366 batting average over his last 10, then went 0-for-4 with two strikeouts.
Peter Bourjos finished 0-for-3, making him hitless in 12 at-bats since returning from a fractured right wrist.
And only one other player from Monday's lineup, Erick Aybar, was expected to be an everyday guy when the Angels broke camp nearly five long months ago.
"There's a lot of things the foundation of our offense is built on that are missing right now, and the other guys have to pick it up," Angels manager Mike Scioscia said, his team a season-high 16 1/2 games out of first. "We have to be a little creative with some of the things we do. We tried to hit-and-run, they fouled it off -- we didn't set up many innings tonight. Obviously, Mike's dynamic ability is something that you're going to miss at any time."
The Angels, fresh off dropping two of three to the last-place Astros, have lost 11 of their last 16 to move to 11-20 since the All-Star break and 55-69 on the season. They haven't been this far back with this much time left since 2003, when they lost 85 games in Scioscia's fourth season.
Weaver -- his ERA at 3.62 on the year and 10.64 in his last two starts -- was asked what keeps him motivated.
"Love of the game," he said. "This is the first time I've ever been through something like this. Obviously, we didn't play up to expectation this year, but you still got to go out there, got a job to do and you've got to finish it out. We're trying to stay positive and just going out there and battling and playing the game with love and respect."
It took Weaver one fourth inning to equal the number of runs he had given up in his previous 41 at Angel Stadium: four.
Jason Kipnis led off with a walk, stole second and scored on Carlos Santana's RBI single to get the Indians on the board. Two batters later, Asdrubal Cabrera doubled. Then Jason Giambi hit a sacrifice fly. And then Lonnie Chisenhall drilled a two-run homer, highlighting a frame that saw the Angels' ace give up five hits and throw 37 pitches.
Weaver settled down after that, getting through six innings to give his team a chance, but the Angels couldn't come back. The late life on McAllister's fastball limited them to one run in 6 1/3 innings, and Trumbo's laser to straightaway center field only matched the solo homer Nick Swisher hit off Kevin Jepsen in the top half of the ninth.
"It was a little bit of a battle for me after that third inning," McAllister said, "but I felt like I was able to make some pitches when I needed to."
Albert Pujols (partial tear of left plantar fascia) has been officially shut down for the rest of 2013, Howie Kendrick is still rehabbing from a sprained right knee, Hamilton has been inconsistent and four members of the Angels' series-opening lineup -- J.B. Shuck, Hank Conger, Kole Calhoun and Grant Green -- spent the majority of last season mired in the Minor Leagues.
Trout has only failed to start in two of the Angels' 124 games, and one since June 30 -- but he's already missed.
"He's obviously a staple, arguably the best player in the game," Trumbo said. "Any time somebody that caliber is not with you, it's somewhat of a void."
Alden Gonzalez is a reporter for MLB.com. Read his blog, Gonzo and "The Show", and follow him on Twitter @Alden_Gonzalez. This story was not subject to the approval of Major League Baseball or its clubs.