Trout out of Angels' lineup with hamstring injury
Trout out of Angels' lineup with hamstring injury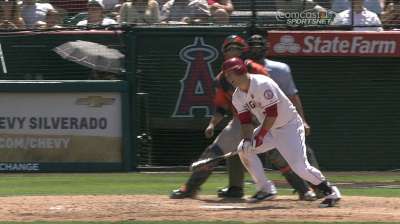 ANAHEIM -- Mike Trout's right hamstring, which forced him to leave Sunday's game in the sixth inning, felt "a lot better" heading into Monday's series opener against the Indians, but the Angels opted to give their superstar outfielder a full day to rest it.
"I wanted to play," Trout said, "but I don't need to push it."
Josh Hamilton -- batting .359 in his last nine games -- started in Trout's place in the No. 3 spot of the lineup, with Peter Bourjos playing center field, Kole Calhoun in right and Hank Conger moving up to the No. 5 spot.
"Mike is a little sore right now so we're going to stay away from him today and see how he progresses in the next day or two," Angels manager Mike Scioscia said. "You definitely want to err on the side of caution with hamstrings."
This was only the second time Trout has been absent from the Angels' lineup. The other time came on June 30, and it was also because of a right hamstring injury. That injury fully healed, though, and Trout said the new one is in a different spot.
The 22-year-old felt the hamstring grab on him while legging out a double in the third inning of Sunday's 7-5 loss to the Astros. He later scored on a single from Mark Trumbo, then flied out in the bottom of the fifth and was replaced by Calhoun to start the sixth.
Trout came in early on Monday and got some treatment. He didn't require an MRI, doesn't feel it grabbing on him the way it did 24 hours ago and only feels "a little sore."
He hopes to play on Tuesday.
"That's the plan," said Trout, who has a .333/.430/.574 slash line in his first 122 games.
"It's just one of those things where you don't want to push it. You always have to have the mentality that you're going to play, and if the trainers don't think it's a good idea, then you have to trust them. I trust their decision. We'll see how it is tomorrow."
Alden Gonzalez is a reporter for MLB.com. Read his blog, Gonzo and "The Show", and follow him on Twitter @Alden_Gonzalez. This story was not subject to the approval of Major League Baseball or its clubs.