Astros overwhelmed by Rangers' 11-run inning
Astros overwhelmed by Rangers' 11-run inning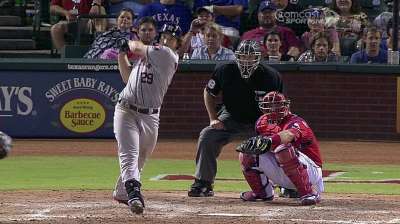 ARLINGTON -- It didn't take long for the Astros to use Wade LeBlanc as a long reliever. Starter Lucas Harrell couldn't get past the third, exiting amid what turned out to be an 11-run inning for the Rangers, as the Astros dropped a 16-5 decision on Monday night in the series opener at Rangers Ballpark.
Harrell went 2 1/3 innings, as every Rangers hitter scored a run in the third. The inning began with consecutive singles by Leonys Martin and Elvis Andrus. The only out Harrell recorded was on Ian Kinsler's sacrifice bunt to move both runners into scoring position.
Houston's strategy to intentionally walk Adrian Beltre in his first two plate appearances didn't work the second time. A.J. Pierzynski drove in two runs on a single to give Texas a 4-1 lead.
"It was a sinker down and away, off the plate and shoelaces high," Harrell said. "You just tip your cap. It was one of those days where things didn't go your way."
LeBlanc, who was recalled earlier in the day from Triple-A Oklahoma City, relieved Harrell after he walked Jurickson Profar on five pitches to load the bases for the third time with one out. All four runs LeBlanc allowed in the inning were unearned due to errors by Jonathan Villar and Matt Dominguez that led to three runs.
"It was happening up and down the lineup," Rangers manager Ron Washington said. "When we're like that, that's when we're at our best."
Harrell gave up nine runs (seven earned) on seven hits in 2 1/3 innings on 62 pitches. LeBlanc lasted 2 2/3 innings, allowing five runs (one earned) on five hits.
"You get a chance to go out and pitch, start and get yourself back in the rotation, and you give up six, seven ground-ball hits, and a bunch of runs," Harrell said. "It was a day where I thought my sinker was really good, I made some good pitches, but it just didn't work out."
Along with LeBlanc, Philip Humber and Jake Elmore saved the bullpen to pitch the final three innings. Humber allowed two runs in two innings, including a seventh-inning solo shot to Pierzynski, who caught Humber's perfect game with the White Sox last year, to extend the deficit to 16-5.
Infielder Elmore replaced Carlos Corporan for his first Major League appearance as a catcher in the fourth, then relieved Humber in the eighth for his first big league appearance as a pitcher. It was the 14th instance a player appeared as a catcher and a pitcher in the same game.
"We didn't want to use any more of our guys down there," Astros manager Bo Porter said. "Humber did a great job and LeBlanc did a great job of saving the rest of our bullpen, and we felt like if we got to the eighth, we could send Elmore out there for one more inning and save the rest of the guys down there."
The Astros scored four runs off Rangers starter Matt Garza in the seventh. L.J. Hoes extended his hitting streak to a career-high six games on an RBI single to score Dominguez. Robbie Grossman plated two more runs on a two-out double to right, ending Garza's outing. Grossman scored on a ground-rule double from Brett Wallace off reliever Robbie Ross. Garza allowed five runs on eight hits in 6 2/3 innings.
"I went in there and told the guys after the game, 'Let this one go,'" Porter said. "It only counts as one game, and we still have a chance to win this series. Just come back tomorrow and be ready to play."
Houston is now 2-12 against Texas this season and 1-3 at Rangers Ballpark. The Astros have alternated wins and losses in each of their last six games. They're now 4-3 on the nine-game road trip.
Master Tesfatsion is an associate reporter for MLB.com. This story was not subject to the approval of Major League Baseball or its clubs.