Moore takes another positive step toward return
Moore takes another positive step toward return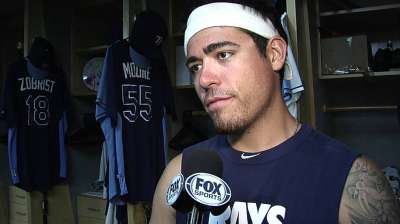 BALTIMORE -- Matt Moore is getting close to returning from the soreness in his left elbow that has had him on the disabled list since July 31.
Moore played catch on Monday and could throw a bullpen session on Wednesday, which likely could lead to a simulated game on Saturday.
"Today went really well," Moore said. "We played catch with pretty hard intensity. I wouldn't say it was like I was throwing it as hard as I could with no regard. It was probably, like, 90 percent at the most. ... Everything went really good. I'm planning on tomorrow being another day like today. With the long-toss program ... possibly a bullpen on Wednesday.
"Wednesday will be the day before the off-day, so I'll come back on Friday and see where I'm at, hopefully working into a sim game after this bullpen on Wednesday."
Moore hopes to return to action as early as next week, for the series at Tropicana Field against the Angels.
"I'm very optimistic," he said. "You try and keep your mind-set positive with these kinds of things. I would love to pitch in that series."
Manager Joe Maddon sounded a little more cautious.
"[Returning for the Angels series] might be stretching it a bit, I think," said Maddon, noting that a more likely scenario would have Moore back in the rotation by the end of the month, for the West Coast trip.
"We badly want him back, but not at the expense of rushing him," Maddon said.
Bill Chastain is a reporter for MLB.com. This story was not subject to the approval of Major League Baseball or its clubs.