Orioles miss too many opportunities vs. Rays
Orioles miss too many opportunities vs. Rays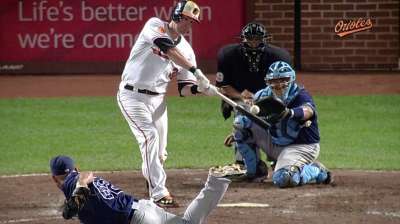 BALTIMORE -- The Orioles hit David Price hard. They just didn't do it when it mattered.
The O's left a runner on third with fewer than two outs in four consecutive innings, stranding 10 men on base over Price's five frames -- and a season-high 15 total -- in a disappointing 4-3 series-opening loss to the division-rival Rays on Monday night.
The defeat drops Baltimore 4 1/2 games behind the American League Wild Card-leading Rays and denied starter Chris Tillman another shot at 15 wins in a 15-hit game that the O's let slip away.
"We had men on base and we created the opportunity, we were just unable to get that big hit," said center fielder Adam Jones of an Orioles club that has left 59 men on base over the past seven games. "But we were able to create the opportunity. Just imagine if we had none and left nobody on base. Then we'd really be getting cussed out."
In this pivotal late-August series -- the start of a final 39-game push that puts them against a tough slew of postseason hopefuls -- the Orioles (67-57) continued to struggle against the Rays, losing for the seventh time in their last 10 matchups.
"I know you're saying my line before I give it, but there's good things happening to put people out there," manager Buck Showalter said of his club's missed chances. "We had some good at-bats. Our guys were engaged. It's a frustrated locker room right now, but they're good, and we think we have a chance to be, too. It's a frustrating game."
Despite tallying 10 hits off Price -- tying a season high -- and working two walks, the O's couldn't score more than two runs off the Rays ace and reigning AL Cy Young Award winner. They went 2-for-11 with runners in scoring position over Price's 99-pitch outing, chasing the lefty from the game in fewer than seven innings for the first time since May but without much to show for it.
"It's the most draining it has been in a while," Price said. "I feel like that's the best I've been in my last three outings. This team, they're tough. That's why they're in the position they're in now. They're still fighting for after-September baseball, like we are. That's an extremely tough team. But we made some pitches we needed to. I had some hard-hit pitches. You've got to have that good fortune sometimes."
Designated hitter Danny Valencia, recalled from Triple-A prior to the game, had a hand in most of the O's offense off Price. Valencia, who reached base three times and improved to 9-for-12 lifetime off the lefty, put runners on second and third after a one-out RBI double in the second inning. But in an all-too-familiar scenario, Price -- who entered the game with a .305 opponents' average with runners in scoring position -- hunkered down and the Orioles came up short, with Steve Pearce and Brian Roberts flying out.
The Orioles' only other score off Price came in the third inning, but again, they could have come up with more. Manny Machado put the leadoff man on, singling on the eighth pitch of his at-bat, and Jones lined a ball into center field to put runners on the corners. Matt Wieters -- who brought the O's within one with a seventh-inning solo shot -- narrowly missed a three-run homer, sending Price's 0-2 pitch to the deepest part of the park for an RBI double.
"I still thought we put together good at-bats," Wieters said. "We didn't get the hits. We didn't get the guys in, but there were still good at-bats by Pearce, who hit things at people. We hit some balls that were right at them, but that's baseball."
Tillman struggled early and allowed a pair of homers -- accounting for three of his four runs -- but retired the final eight he faced in his six innings. He allowed a solo homer to Evan Longoria two outs into the game, and Matt Joyce hit a two-run blast in the fourth for two of the Rays' five hits off him.
"They're all tough," Tillman said of the loss. "None of them are easy. I think we know what this is coming down to [in the division]. I'd like to be better there."
Right-hander Francisco Rodriguez -- on for the first time since exiting Friday with a strained right groin -- recorded the final out of the seventh and loaded the bases to start the eighth, but first baseman Chris Davis bailed him out, catching a screaming liner from Yunel Escobar and turning a double play to keep the O's within a run.
The Orioles' got the tying run on in the ninth on J.J. Hardy's single off closer Fernando Rodney, but the chance was erased when pinch-runner Alexi Casilla was thrown out by Jose Molina trying to steal second. Nick Markakis then worked a one-out walk that went for naught, as Rodney got a strikeout and a groundout en route to his 28th save.
"Hey, bring it tomorrow," Jones said of the mind-set heading into Tuesday's game. "We create the opportunities again and keep swinging these bats.
"You can't change your approach in this game, because once you change, other things are going to start failing. If you're an aggressive hitter, you've got to go up there and be aggressive. We're an aggressive team. Sometimes Price used that against us, getting us out of the zone a little bit, but hey, we're pretty good at hitting our pitch. He finagled himself out of a couple of jams."
Brittany Ghiroli is a reporter for MLB.com. Read her blog, Britt's Bird Watch, and follow her on Twitter @britt_ghiroli. This story was not subject to the approval of Major League Baseball or its clubs.