Harper gets first look at historic Wrigley Field
Harper gets first look at historic Wrigley Field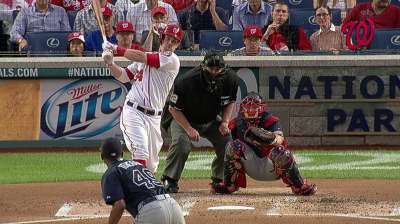 CHICAGO -- Bryce Harper tweeted Sunday that he was excited to be going to Chicago to play his first career game at Wrigley Field.
Harper's tweet read:
"First time in Chicago and at Wrigley! I can't wait to see the ivy and just be in such an historic place! #blessed #cubsvsnats"
"It's unbelievable," Harper said before the Nationals' series opener against the Cubs. "To be able to be in a ballpark with so much history and being able to play in Wrigley for the first time, and seeing the Wrigley Field sign outside, and the ivy for the first time.
"Just being in such a great ballpark, and it's such a great fan base, being able to see the bleacher fans for the first time, there are so many things I'm looking forward to. I'm very excited to play tonight."
Harper hadn't yet been in the big leagues last season when the Nats opened the season with three games against the Cubs at Wrigley from April 5-8. Harper debuted on April 28, 2012, and went on to hit .270 with 22 homers and 59 RBIs on the way to winning the National League Rookie of the Year Award.
Manny Randhawa is an associate reporter for MLB.com. This story was not subject to the approval of Major League Baseball or its clubs.