Zimmermann struggles as Nationals fall to Cubs
Zimmermann struggles as Nationals fall to Cubs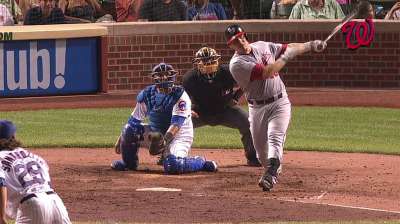 CHICAGO -- Prior to their series opener against the Cubs, Nationals starters had allowed just three home runs in 15 August games. Jordan Zimmermann gave up three in the first five innings Monday night.
The right-hander surrendered a season-high eight earned runs in an 11-1 blowout loss at Wrigley Field that dropped the Nationals to 10 1/2 games behind the Reds for the second and final Wild Card playoff spot with 38 games remaining in the regular season.
Zimmermann gave up two three-run shots, one to Nate Schierholtz in the first and one to Dioner Navarro in the fifth, with a solo homer by Donnie Murphy sandwiched in between in the fourth.
"I just made a few mistakes tonight and made them at the wrong time," said Zimmermann. "A hanging curveball [to Schierholtz] and a fastball [to Navarro] that was pretty much middle, and the two home runs killed me. I can live with a solo home run or a few base hits, but when you get guys on, you've got to really buckle down and make some pitches, and I wasn't able to do that tonight."
The Cubs jumped in front early. The first batter Zimmermann faced, Junior Lake, hit a sharp grounder to Ryan Zimmerman's left at third that hit off his glove and went into short left field. Lake hustled into second for a double.
Lake moved to third on a sacrifice bunt by Darwin Barney, and Zimmermann then walked Navarro, setting the stage for Schierholtz's three-run blast -- the first of two homers he would hit -- to make it 3-0.
Schierholtz -- who came into the game 3-for-10 lifetime against Zimmermann with two doubles -- struck again with an RBI double in the third to make it 4-0.
Then came Murphy's solo homer to right field in the fourth, the first of two long balls of his own in the game.
Navarro followed a double by Lake and walk to Barney in the fifth with his three-run shot to blow the game open.
The second homers of the game for Schierholtz and Murphy came off relievers Fernando Abad and Ian Krol in the seventh and eighth innings, respectively, making it 11-1.
The eight earned runs allowed by Zimmermann are the most he's given up this season, and tied his career high, set Sept. 1, 2012, against the Cardinals.
"[Zimmermann] left the ball up," said Nationals manager Davey Johnson. "This is a ballpark [where if] you leave the ball up out over the plate, bad things happen. The first one was a bad curveball to Schierholtz, and [with] two strikes, [Schierholtz is] protecting, and [Zimmermann] left a curveball up belt high, and that's going to happen."
Meanwhile, the Nationals couldn't get anything going offensively against Cubs starter Jeff Samardzija, managing just one run on a Wilson Ramos solo homer to left in the seventh.
Samardzija said the run support he received helped him pitch effectively.
"Really, it comes down to getting the runs that we got," the right-hander said. "The last thing you want to do is start walking guys. You put up four-to-five home runs and eight-to-nine runs, it allows you to really calm down. Regardless of what I did out there, you've got to tip your hat to the offense."
"It's frustrating," said Zimmerman of the Nationals' offensive struggles. "There's really no one way to look at it to figure out why it's happening or what's happened, because if we kind of knew, then obviously it wouldn't be happening. But baseball's a funny sport, and you've just got to keep going out there and trying to get better and finish the season strong."
David DeJesus, the newest member of the Nationals -- acquired from the Cubs earlier in the day in a waiver deal -- pinch-hit in the eighth and popped out.
DeJesus said he was nervous when he came to the plate as a visitor in the ballpark he's called home since the start of the 2012 season. He received a standing ovation from the Wrigley Field crowd.
"It's one of those surreal experiences, because just yesterday I was playing for the Cubs and I was taking at-bats and everything," DeJesus said. "And it was honoring, the reaction by the fans. They respected the way I went out there and approached my job every day. And I kind of had the little shakes in my hands. It was a little crazy. I stepped out and kind of took a deep breath and [got] back in there. It was a pretty cool experience."
With time running out for the Nationals as they try to make a late playoff push, there is still hope in the clubhouse, though that hope is tempered with the understanding that they must start playing better.
"Obviously we're going to have to make quite a run to get back into it, but this team's capable of doing something like that, so we just [have to] go out there each day and try to win that game," Zimmerman said. "And if it turns out like it does tonight, you forget about it, and if you win, 10-1, you forget about it. It doesn't do anything for tomorrow. So [you] go out there tomorrow and try and win."
Johnson agreed that his club could still make a big late push.
"I like the talent we have," he said. "I still like this ballclub, and tomorrow's another day."
Manny Randhawa is an associate reporter for MLB.com. This story was not subject to the approval of Major League Baseball or its clubs.