Schierholtz, Samardzija team up to top Nats
Schierholtz, Samardzija team up to top Nats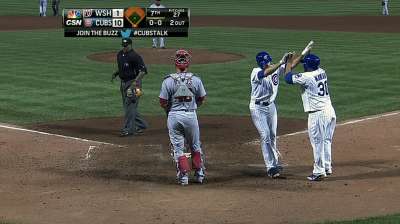 CHICAGO -- About two hours before the Cubs opened a four-game series against the Nationals on Monday, general manager Jed Hoyer stood by the third-base dugout and lamented his team's offensive struggles at Wrigley Field.
"It's frustrating, to be honest with you," Hoyer said. "I don't know why we haven't played well here."
Four hours later, that would all come as news to Jordan Zimmermann and the Nationals.
The Cubs, who have been frustrated by five shutout losses in their last nine home games and three on this homestand alone, put a hurting on Zimmermann and the visiting Nats in an 11-1 rout on Monday night.
Ten of the 11 runs came on homers, as Donnie Murphy and Nate Schierholtz each hit a pair for the third and fourth multi-homer games of their careers, respectively. Dioner Navarro also hit a three-run shot to help push the Cubs to their largest margin of victory this season.
"The pitching, obviously, the hitting -- everything clicked today," manager Dale Sveum said.
It matched the most runs Zimmermann has allowed in his career (eight), and the most the Cubs have scored at the Friendly Confines since putting up 14 against the Astros on June 23.
Jeff Samardzija was as impressive on the mound as his cohorts were at the plate. He allowed only one Washington runner to reach second base before Wilson Ramos tattooed a hanging splitter onto Waveland Avenue in the seventh. The Cubs righty turned in his third career complete game and second of the season, striking out five without walking a batter.
"Really, it comes down to getting the runs that we got," Samardzija said. "The last thing you want to do is start walking guys. You put up four-to-five home runs and eight-to-nine runs, it allows you to really calm down."
The barrage over the course of Zimmermann's five innings was steady. Junior Lake led off the first with a double before Navarro walked and Schierholtz crushed a 79-mph curveball over the right-field wall.
Darwin Barney singled in the third and scored on a Schierholtz double, the only run of the night that didn't come on a long ball, before Murphy hit a solo homer in the fourth to make it 5-0.
Navarro, batting in the three-hole with first baseman Anthony Rizzo out sick, hit a three-run shot in the fifth. Zimmermann had given up just four homers in his previous four starts, spanning 23 2/3 innings.
"We haven't really done that against a real quality pitcher, that many home runs and quality at-bats and balls hit hard," Sveum said.
Fernando Abad relieved Zimmermann, and gave up the second Schierholtz home run -- this one coming in the seventh, and flying out just inside the right-field foul pole. Schierholtz finished the night 3-for-4 with the two homers, a double and a career-high six RBIs.
Murphy added a second homer, a solo shot, in the eighth. He has six homers since Aug. 9, matching a career high (set in 2009) in that span alone.
"It just seems like I'm getting good pitches to drive right now, and I'm not missing them," Murphy said. "It's not one of those freak things."
And after surrendering 16 earned runs over 15 1/3 innings in his first three starts this month, Samardzija was practically lights-out.
"All the hard work I do in the offseason and during the year, to see it paying off with feeling good in the eighth and ninth inning and 100 pitches is what it's all about," Samardzija said. "It goes back to the run support, when you're not worried if they do something. Ramos goes deep, that's OK. Still have a seven-run lead. You can attack and go from there."
The Chicago righty even faced outfielder David DeJesus, who was traded from the Cubs to the Nats at about 1 p.m. CT on Monday. There's a bit of distance between Chicago and Washington, but not much in the journey DeJesus made Monday afternoon from the home clubhouse to the visitor's side. Just in time for his former teammates' bats to break out.
"It was unbelievable, because the last couple of games, we had trouble scoring," DeJesus said. "And now they put 11 up there."
Joey Nowak is a reporter for MLB.com. Follow him on Twitter at @joeynowak. This story was not subject to the approval of Major League Baseball or its clubs.