Gibson struggles, optioned by Twins after loss
Gibson struggles, optioned by Twins after loss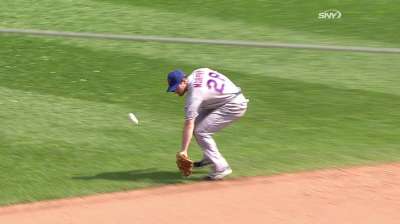 MINNEAPOLIS -- Even though he was coming off Tommy John surgery and had an innings limit in place, many in and around the Twins' organization expected Kyle Gibson to make an immediate impact as a rookie this year.
But Gibson's first stint in the Majors didn't go according to plan, and it ended unceremoniously on Monday afternoon, as he was optioned to Triple-A Rochester following another tough outing.
Gibson was roughed up yet again, and the Twins couldn't get much going offensively in a 6-1 loss to the Mets in a makeup game from April 14 at Target Field.
Gibson was hit hard, as he lasted just 3 2/3 innings, giving up four runs on 10 hits and two walks. It raised the highly touted right-hander's ERA to 6.53 in 10 starts with Minnesota this year.
"I think a lot of it was coming up here and trying to do too much," Gibson said. "I understand the hitters up here are better, and I haven't been able to make good enough pitches when I'm behind in the count or even ahead in the count. I'm just not locating or throwing good pitches."
Gibson isn't expected to pitch much for the Red Wings, as he has thrown a combined 143 2/3 innings between Triple-A Rochester and the Twins this year. He's set to meet with Minnesota general manager Terry Ryan, who is currently in Rochester, to come up with a plan for the rest of the season.
But Gibson could see at least another start or two with Rochester to end the year on a better note after struggling in the big leagues. The Twins will also wait until at least Tuesday to recall a player, and their starter for Saturday's game in Cleveland is to be announced.
"He's frustrated, but I think he knows what he needs to do to improve," Minnesota manager Ron Gardenhire said. "His stuff is good and his sinker moves, but his command isn't there yet."
The Mets jumped all over Gibson in a hurry, as he loaded the bases with one out in the first before Andrew Brown delivered an RBI single. But Gibson was able to get Wilmer Flores to ground into an inning-ending double play to limit the damage.
It was more of the same in the second, when Juan Lagares and Omar Quintanilla both singled with one out before Eric Young Jr. drove home Lagares with a single to left field. But Quintanilla was thrown out trying to advance to third base on the play.
New York struck with two more runs in the fourth, when Gibson loaded the bases with nobody out. Quintanilla brought home a run with an RBI single before Young lined into a double play at third base. Daniel Murphy then came through with a two-out RBI single to knock Gibson out of the game to mark his second-shortest outing of the year.
"If you go back and look at the video, it's not a mystery why I'm struggling right now," Gibson said. "I went back and out of the [72] pitches, I hit my spot on 27 of them. Obviously, that's not good enough, so I have a lot of stuff I need to work on."
Right-hander Anthony Swarzak pitched in long relief of Gibson and went three innings, allowing one run on three hits and a walk with five strikeouts. Swarzak, who could be moved into a starting role in Gibson's absence, gave up the run in the seventh on a two-out RBI single from Flores in the seventh inning.
Marlon Byrd punctuated the Mets' scoring with a solo homer in the ninth on the first pitch he saw from Jared Burton.
Minnesota's offense, meanwhile, didn't score until the seventh against right-hander Dillon Gee. Gee went 7 2/3 strong innings, surrendering just one unearned run on six hits and a walk, with nine strikeouts.
"I just tried to mix up my pitches for strikes," Gee said. "And elevating and throwing a couple changeups and curveballs, and just try to catch them with a high fastball."
The one run came with the help of an error, as Trevor Plouffe doubled with two outs in the seventh and scored on an error from Murphy at second base on a grounder hit by Clete Thomas.
The Twins went 0-for-10 with runners in scoring position to suffer their fourth straight defeat. They've combined to hit just .122 (6-for-49) with runners in scoring position in those four losses.
"The offense did nothing today," Gardenhire said. "Again, we missed opportunities with runners on, and it seems like that's the ongoing theme."
Rhett Bollinger is a reporter for MLB.com. Read his blog, Bollinger Beat, and follow him on Twitter @RhettBollinger. This story was not subject to the approval of Major League Baseball or its clubs.