d'Arnaud showing early plate discipline
d'Arnaud showing early plate discipline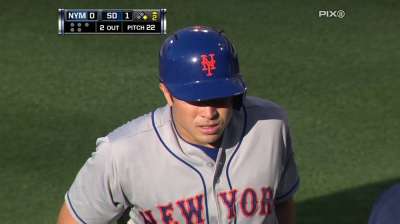 SAN DIEGO -- Travis d'Arnaud's big league career is now two games old, and he has yet to record his first big league hit. But d'Arnaud has reached base safely in exactly half his trips to the plate, providing the Mets with some obvious offensive benefits.
Four walks in eight plate appearances falls right in line with what d'Arnaud had been doing in Triple-A Las Vegas: nine free passes in seven games prior to his promotion.
"It's the same approach I've had," d'Arnaud said. "Fortunately, it's been working out for me."
The Mets have still not announced whether d'Arnaud will stick around past Tuesday, when regular catcher John Buck returns from paternity leave. FOX Sports reported late Sunday that the Mets do plan to keep d'Arnaud with the team, which general manager Sandy Alderson hinted at over the weekend. But when asked directly via text message about the situation, Alderson replied: "No decision yet."
Either way, manager Terry Collins cited plate approach as one of the key criteria he and the front office will use to make that decision. That bodes well for d'Arnaud, who has swung at merely eight of the 35 pitches he has seen, whiffing on just two of them.
Not everything, of course, has been ideal for d'Arnaud, who has allowed two passed balls in two games behind the plate. d'Arnaud also hit into a double play in the second inning Sunday, and Collins said his young catcher looked nervous throughout his debut.
But jitters are normal for any young player, and d'Arnaud appears to be handling them as well as the Mets could have hoped.
"I'm just trying to take it day by day," d'Arnaud said, "and have as much fun as I can."
Anthony DiComo is a reporter for MLB.com. Follow him on Twitter @AnthonyDicomo This story was not subject to the approval of Major League Baseball or its clubs.