Venable goes deep to send Padres walking off in finale
Venable goes deep to send Padres walking off in finale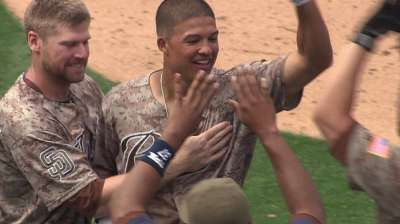 SAN DIEGO -- As if Will Venable's career-high 15-game hitting streak was not impressive enough already, he added his first career walk-off home run to his red-hot run.
Venable hit a solo shot in the ninth to give the San Diego Padres a 4-3 win and a split of the four-game series as the club rallied back against the New York Mets in front of 24,704 fans at Petco Park on Sunday.
During the streak, Venable has been on a tear, batting .377 with 11 extra-base hits, and said this is as good as he has felt at the plate at any point during his career.
"Probably. It seems like I'm feeling good, and also getting some of those hits to fall in," Venable said. "It's a combination of the two."
After tying the game at 3-3 in the eighth, the Padres turned to closer Huston Street, who pitched a scoreless ninth to earn the win.
Venable led off the next frame against Mets left-hander Pedro Feliciano, and drew upon an at-bat from the previous night for help.
"Even though I bunted against [Feliciano] yesterday, I got a chance to see his slider," Venable said. "I had an idea what it looked like, and he threw me two fastballs before that pitch. In the back of my mind, I was hoping he was going to throw me a slider, and he threw one that caught enough of the plate and I was able to hit it out."
Talking about Venable in superlatives has become commonplace for Padres manager Bud Black lately.
"We have talked about Will, almost every night we talk about it," Black said. "He's playing great baseball, he really is. He really plays the game hard, and you get rewarded for playing the game hard, and he's being rewarded. He's swinging the bat great, playing great defense. We are all proud of Will. He comes in every day fresh and wanting to help the Padres win. That's his sole goal."
Venable added a fine defensive play for good measure as he snared a drive off the bat of Marlon Byrd in the eighth inning that arguably would have gone over the wall in center and given the Mets a one-run lead.
"I think for everybody, if you're playing well in one element of the game it can carry over into other parts," Venable said. "As far as that ball, I'm not sure if it would've gone out or not. He hit it well, I just tried to get back there and catch it."
Earlier in the game, Venable extended his hitting streak with an infield single in the fifth that ticked off the glove of Mets starter Matt Harvey and pushed across Logan Forsythe for San Diego's first run. Alexi Amarista followed with a sacrifice fly to deep right-center that Juan Lagares made a long run to track down as Nick Hundley came home.
"I thought we had some good at-bats against [Harvey]," third baseman Chase Headley said. "We hit some balls hard that went to people, and then we had the inning where things kind of went our way. We had the bloop single and the chopper that got in there, but that's baseball sometimes."
Hundley had three hits in the game after homering on Saturday night in his return from paternity leave.
Padres starter Eric Stults kept the game tied until Omar Quintanilla and pinch-hitter Andrew Brown used back-to-back doubles to give the Mets a 3-2 advantage and chase Stults from the game.
"I felt better today than I did in my last start in Colorado," Stults said. "It's always nice to be at home. It was a great win for us today to even up the series."
Stults yielded three runs on six hits while walking two and striking out five.
Harvey allowed two runs on six hits and struck out six. He did not walk a batter.
Tim Powers is a contributor to MLB.com. This story was not subject to the approval of Major League Baseball or its clubs.